GOLD Awards and Inclusive Arts Ceremony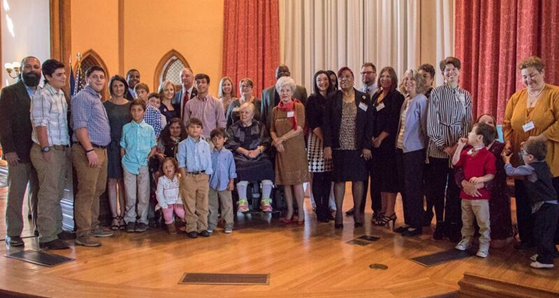 On November 15, 2017, the Governor's Office of Disability Affairs hosted the Governor's Outstanding Leadership in Disabilities (GOLD) Awards and the Inclusive Arts Ceremony at the Old State Capitol. The GOLD Awards recognizes extraordinary individuals and organizations who have contributed their time and talents to benefit the lives of persons with disabilities in Louisiana. Governor John Bel Edwards and First Lady Donna Edwards took pictures with each award recipient and congratulated them on their achievement. In addition, Gov. Edwards served as the keynote speaker for the event. Gov. Edwards remarked that "the GOLD Awards emphasizes the importance of the contributions of advocates and persons with disabilities in moving Louisiana forward. I always enjoy this ceremony because it celebrates great Louisianans who contribute countless hours to bettering our communities."
In conjunction with the GOLD Awards, the Governor's Office of Disability Affairs hosted the Inclusive Art Show to bring greater awareness of the importance of inclusion in today's society. First Lady Donna Edwards presented each winner with an award medal. Lynette Fontenot, artist and chairperson for the Governor's Advisory Council on Disability Affairs, provided the keynote speech for the Inclusive Arts Contest. Inclusive Art entries were submitted from across the state and illustrate or describe ideas related to this year's theme "Together We Succeed." Dana Territo of Baton Rouge was awarded the Lynette Fontenot Excellence in Inclusion Award, which is given to the best overall winner.
The GOLD Awards Winners were:
Distinguished Merit Ashley McReynolds, Baton Rouge
Patsy Barrett Memorial Jane Rhea Vernier, New Orleans
Ken Vince Memorial Jay Isch, Scott
Educator of the Year Julie Bourgeois, Thibodaux
Youth of the Year Lillian Dejean, Lafayette
Family of the Year The Pierce Family, Larose
Volunteer of the Year Trach Mommas of Louisiana
Employer of the Year University Medical Center, New Orleans
Provider of the Year Terrebonne Arc, Houma
Direct Support Professional of the Year Latasha Walker, Bossier City
Veteran of the Year Kenneth Carmouche, Lafayette
Service Animal of the Year Bella (Arc of Caddo Bossier), Shreveport
Elected Official of the Year Rep. Patricia Smith, Baton Rouge
Public Servant of the Year Mark Thomas, Baton Rouge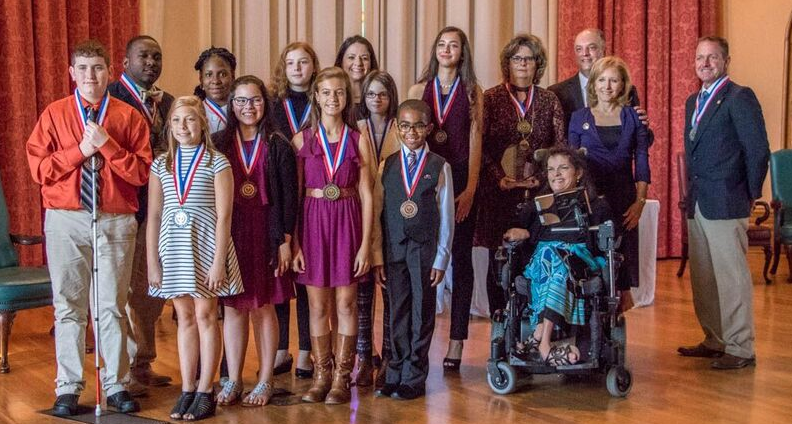 The Inclusive Art Show winners were:
Elementary Division 1 1st Kaylee Cook, Ringgold
2nd Shyloh Bell, Ringgold
3rd Emily Grimmett, Port Barre
Elementary Division 2 1st Blair Young, Port Barre
2nd Maci Leger, Port Barre
3rd Zavier Simon, Lafayette
High School 1st Hailey Enamorado, Denham Springs
2nd Aurian Hanna, Ringgold
3rd Trey Cunrod, LSVI
Adult 1st Dana Territo, Baton Rouge
2nd (tie) Marcus Kilgore, Gibsland
2nd (tie) Jerome Puyau, Erath
DD Council Employment Conference
On November 9, 2017, the Louisiana Developmental Disabilities Council hosted the Raising Expectations: Employment for All Conference in Baton Rouge. The conference allowed participants to learn more about Employment First as a national priority for individuals with disabilities, customized employment for people with developmental disabilities, best practices for supporting people in competitive integrated employment, employment programs and services available in Louisiana, and advocating for effective employment services and financing. The conference featured two prominent speakers: Allan I. Bergman and Dr. Steven Hunt. Bergman is the President and CEO of HIGH IMPACT Consulting, and is a nationally recognized thought leader in influencing the development of federal and state policy reflecting "best practice" community supports and services for people with disabilities. Hunt is a leader in the field of Supported/Customized Employment, who has been successful in both securing employment for individuals with disabilities as well as helping them to maintain those jobs. All conference materials can be found at: https://laddc.org/conference/.
Are You Familiar with GACDA?
The Governor's Advisory Council on Disability Affairs was established to monitor state compliance with the Americans with Disability Act and to advise the governor on the needs of individuals with disabilities in Louisiana. GACDA is also charged with assisting the Governor's Office of Disability Affairs with the resolution of state disabilities issues and provide education, communication, and networking services concerning disability issues and needs for all Louisiana citizens. GACDA is composed of 31 members appointed by Governor Edwards. GACDA is composed of four different subcommittees: education, transportation, accessibility, and employment. The education subcommittee provides policy recommendations and identifies needs and concerns in the area of education of students with disabilities. The transportation subcommittee identifies needs, concerns, and availability of accessible transportation for individuals with disabilities in Louisiana. The accessibility subcommittee provides assistance to ensure that communications, emergency services, public services, and public entities are accessible for people with disabilities, and identifies problems and concerns with issues of accessibility for Louisianans with disabilities. The employment subcommittee monitors legislation relative to equal opportunity and access for employment, while working to promote and understand the employment needs and potential of people with disabilities. GACDA meets quarterly, and the next meeting will be held December 19, 2017 at the Claiborne Building in Baton Rouge.
GOV Talks on Employment First
On October 25, 2017, the Governor's Office of Programs and Planning hosted a GOV Talks event at the Louisiana State Capitol on the topic of Employment First and meaningful employment opportunities for individuals with disabilities. Employment First is an initiative of stakeholders designed to address barriers to employment and improve employment outcomes for people with disabilities. Panel members for the event included Julie Foster-Hagan from the Office for Citizens with Developmental Disabilities, Shannon Joseph from the Louisiana Workforce Commission, and Jamie Wong from the Louisiana Department of Education. They spoke on a range of topics including increased training opportunities for people with disabilities, the transition into life after high school, as well as access and integration of employment opportunities. You can watch GOV Talks on Employment First at this link.
Disabled American Veterans Golf Tournament
The Department of Louisiana Disabled American Veterans is holding their annual golf tournament as a fundraiser, which will help furnish many services to Veterans, such as transportation to local Veteran Hospitals, supplying hygiene necessities, and games for amusement for Veterans in VA Hospitals. DAV Capital City Chapter 5, Baton Rouge will host this year's Golf Tournament at Dumas Memorial Golf Course in Baton Rouge, LA on Saturday, March 10, 2018, starting at 8:30 AM. It will be a 4-person scramble.
They are asking local businesses for help by sponsoring a full hole for $100.00 or half-hole for $60.00. Donations are tax deductible. Your firm will be recognized with a sign at a hole with the following information on it: business name, address, telephone number. Checks should be made out to DAV Golf Tournament and can be mailed to Golf Tournament Chairman PDC Al Grimmer at the information provided below. If you need more information, please contact Al Grimmer at 225-229-5465 or algrimmer@yahoo.com.
Parishes Focus on Employment for People with Disabilities
This month the Governor's Office of Disability Affairs attended a productive meeting with Lafayette Mayor/Parish President Joel Robideaux and his newly-appointed Disability Affairs Coordinator, Liam Doyle, regarding employment for individuals with disabilities on the local level. There were other local agencies and organizations in attendance such as Louisiana Workforce Commission, Louisiana Rehabilitative Services, One Acadiana (local chamber of commerce), Lafayette Economic Development, and Superintendent Don Aguillard of the Lafayette Parish School System. We had a very productive discussion about educating businesses about the benefits of employing individuals with disabilities and the positive impact it plays in our communities. We also discussed how better collaboration and knowing what resources are available can help employers and those looking for jobs and careers find employment. Executive Director Bambi Polotzola went over Employment First, which is a national movement for competitive integrated employment for individuals with disabilities and Louisiana being a model employer.
Assistant Director Jolan Jolivette also had a productive discussion with Ville Platte Mayor Jennifer Vidrine, Evangeline Parish School Superintendent Darwan Lazard, Special Education Director Roxanne West, and Ville Platte Chamber President Camille Fontenot about employing individuals with disabilities and the great progress being made with community based employment for students with disabilities in Evangeline Parish. We look forward to having more productive meetings with cities and parishes all across Louisiana.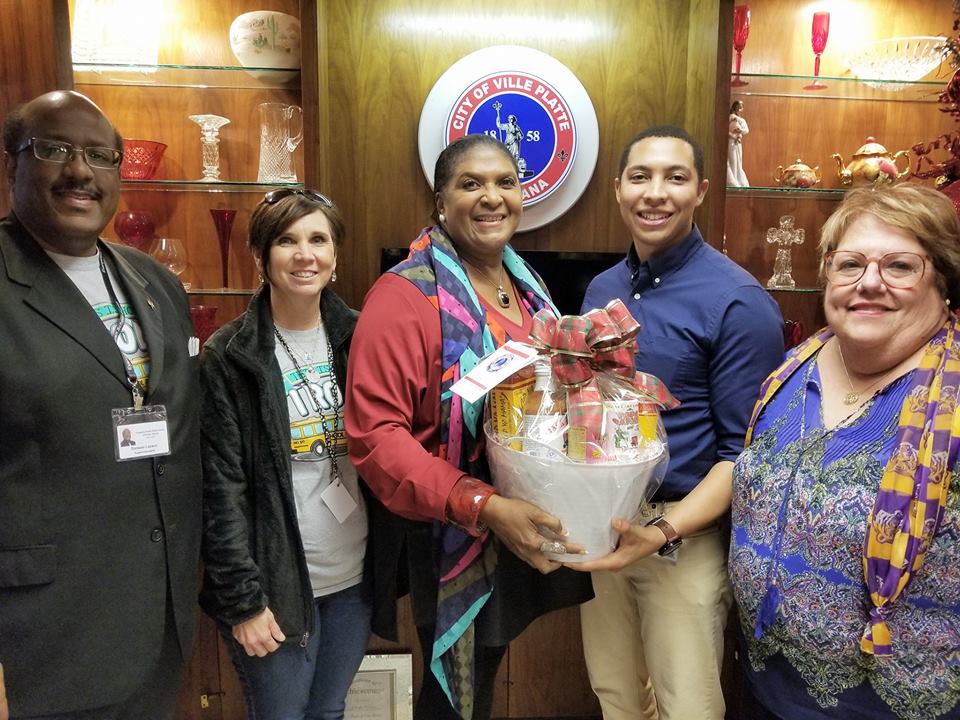 Louisiana Rehabilitation Services Needs Assessment Survey
If you (or a person you are representing) are currently receiving services through Louisiana Rehabilitation Services (LRS), have received services from them in the past or are currently of transition age (14+), please take a few minutes to complete this needs assessment survey. This survey is meant to assess the needs of people LRS supports and improve upon the services.