Developmental Disability Awareness Month Campaign
To coincide with National Developmental Disabilities Awareness Month, Governor John Bel Edwards has proclaimed March as Developmental Disabilities Awareness Month in Louisiana. The proclamation reads, in part, "celebrating the abilities and contributions of people with developmental disabilities can only serve to enrich the communities of Louisiana and enhance our diversity." Read the full proclamation here.
To highlight the many ways in which people with and without developmental disabilities come together to form strong, diverse communities, the Council is pleased to announce its participation in a national social media campaign to be launched by the National Association of Councils on Developmental Disabilities, Association of University Centers on Disabilities, and National Disability Rights Network.
The campaign seeks to raise awareness about the inclusion of people with developmental disabilities in all facets of community life, as well as, awareness of the barriers that people with disabilities still sometimes face in connecting to the communities in which they live, and the Council hopes you will participate.
This year's theme is "See Me for Me!" To us, this means looking beyond someone's disability and seeing them as a person and not just a person with a disability. Throughout March the Louisiana Developmental Disabilities Council will highlight different facets of life where individuals with developmental disabilities are included. The schedule is listed below:
March 1 - 9: See Me As Your Classmate - Education
March 12-16: See Me As Your Coworker - Employment
March 19-23: See Me As Your Neighbor - Community Living
March 26-30: See Me As Your Friend - General
This campaign is open to everyone and the Council encourages you to participate. Post or tweet photos, videos or stories on Facebook and Twitter, share or retweet from other people and pages, and be sure to include the hashtag #DDAwareness18. The hashtag will link all conversations about DD Awareness Month across social media.
Spread the Word to End the Word
Join the challenge in pledging to Spread the Word to End the Word! This national campaign asks people to pledge to stop using the word "retarded" as a starting point toward creating more accepting attitudes and communities for ALL people! Our language affects our attitudes and our attitudes affect our actions. It's time we stop using derogatory, offensive language when there are THOUSANDS of other words we can use! Take the #NFHF #WordUp challenge to join the movement, post a video, share a picture, and let others know you use your words to lift others every single day!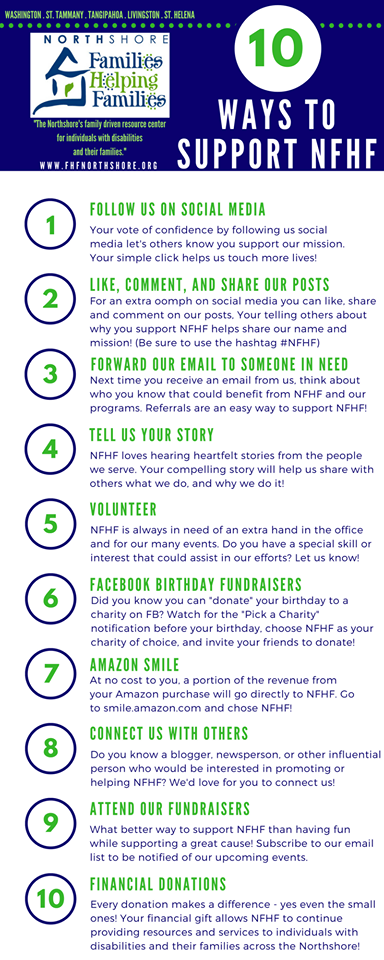 Lions Connected at Southeastern Louisiana University
Education is a lifelong process that is vital to attaining a full and complete life. Southeastern Louisiana University believes that everyone deserves an opportunity to achieve his or her potential for independence, productivity, and full community participation. Lions Connected is certified by the U.S. Department of Education as a comprehensive transition and post-secondary (CTP) program that provides a personalized, post-secondary educational experience for students with Intellectual Disabilities through immersion into the "College Experience" while preparing for vocational opportunities.
Each semester, students audit one academic course, one Kinesiology Lab course and participate in a functional Life Skills Program. Academic mentors accompany each student every step of the way, including class attendance, in-class assignments, out-of-class assignments, and homework support. During their final semester of the program, students have the opportunity for supported employment. Through the Lions Connected program, students learn functional, social, employment, and academic skills needed to be successful valued members in society. They participate in all aspects of College Life!
The program launched in August 2016 as a privately funded pilot program serving three students on the main campus of Southeastern Louisiana University in Hammond. In the 2017-18 academic year, the program is serving ten students. Seven of these students are on the spectrum (PDD-Asperger's) and three have Down syndrome. The current Lions Connected program fee for students is $3,000.00 per semester. Pell Grants are available for students who qualify. Students must complete FAFSA applications to be eligible.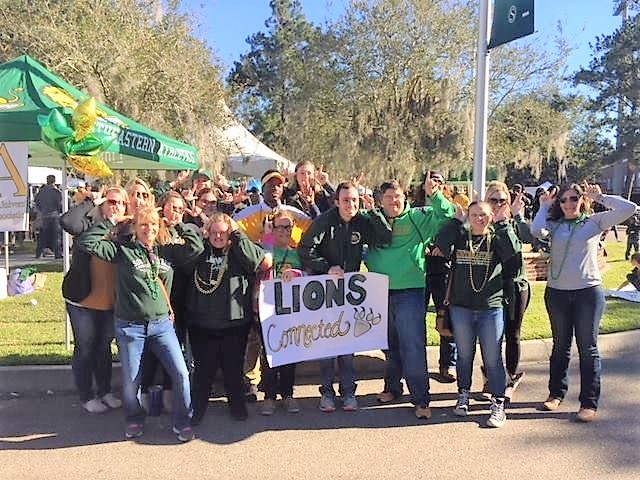 Admission Requirements:
Age 18 -25 yrs. with Intellectual Disability
Not eligible for traditional University admission
No behavioral concerns
Manage basic self-care skills (e.g., dressing, personal hygiene)
Have a desire to go to college and a desire for personal independence
Demonstrate the following skills: basic math/counting skills, basic reading/writing skills, operate a calculator
Applications are currently being accepted for the 2018-19 academic year.
The Lions Connected program fits perfectly within Southeastern's mission and core values. Highly knowledgeable faculty and administrators make sure the students with intellectual disabilities receive the training and experience necessary to become successful employees and independent participants within their communities.
Program Key Features
Socialize with typical college peers
To best immerse in the academic and social life at Southeastern, each Lions Connected student has a Southeastern student mentor that attends classes, campus activities, and community activities with him/her.
Improve communication skills
Students have the opportunity to participate in a Communication/Conversation Group in the Communication Sciences & Disorders Clinic. Interactions with mentors, faculty, students and members of the Southeastern community also strengthen communication abilities.
Receive functional and academic instruction
Students attend life skills courses and learn about daily living skills, self-determination and interpersonal employment. They learn domestic activities including washing clothes, ordering dinner from a restaurant and looking for an apartment. Each semester students audit one Kinesiology or leisure course to encourage physical activity or an artistic experience. Based on their vocational interest, they audit one academic course. Examples of current students' areas of interest include, theater, early childhood education, marketing, foreign language, history, dance, coaching, and philosophy.
Develop employment skills
Whether participating in a two-year or the four-year program, each student participates in introductory work experience seminars the first two semesters of the program. The remaining semesters, students participate in work internships with the goal of becoming successful employees so that they will be self-supportive.
For more information contact us at lionsconnected@selu.edu or visit our Lions Connected webpage.
Like us on Facebook @LionsConnected: https://www.facebook.com/LionsConnected/
Regional Interagency Coordinating Council for EarlySteps (RICC)
The Regional Interagency Coordinating Council (RICC) is an essential component of the Part C early intervention system at the local level. The group's membership includes family members of children with disabilities, as well as service providers, community leaders, and agency representatives. All meetings are open to the public and are held in accordance with the Louisiana Open Meeting Laws.
Louisiana's EarlySteps program has nine regions. The stakeholders in each region meet quarterly to discuss how things are going in the region, set goals to improve service delivery to families, provide professional development, and produce and assign necessary action steps for the group members to take following each meeting.
Below you will find the schedule of upcoming regional meetings. If you have any questions or comments, please feel free to contact Melanie Washington, State Interagency Coordinating Council Director at Melanie.washington@la.gov or 225-219-7560.
February 28, 2018 1:00 pm Ray Oliver Health Unit Monroe
March 30, 2018 1:00 pm Capitol Area Human Services Baton Rouge
April 19, 2018 10:00am North Branch Library Gray
April 20, 2018 10:00am Permits Office Hammond
April 25, 2018 1:30 pm South Regional Library Lafayette
April 26, 2018 10:00am Westside Regional Library Alexandria
May 17, 2018 1:30 pm Calcasieu Parish Health Unit Lake Charles
New Orleans attorney Derrick Edwards Appointed to State Housing Board
Edwards will champion initiatives for disabled veterans and people with special needs
Governor John Bel Edwards has appointed Derrick Edwards to serve on Louisiana Housing Corporation's Board of Directors to represent the 2nd congressional district. "I am honored to serve on the LHC Board," said Edwards. "Access to affordable housing is vital for so many Louisianians, and I look forward to bringing diversity and innovative solutions that will expand safe and affordable housing throughout the state." Edwards plans to use his new role to advance housing initiatives that benefit disabled veterans and individuals with special needs. "I'm keenly aware of the need for affordable housing; however, it is equally important to invest in housing that adequately meets the accessibility needs for people with disabilities, he said." At the age of 17, Edwards suffered a catastrophic football injury that left him paralyzed, but he defeated all odds and has become an inspiration that stretches beyond his community.
"Mr. Edwards brings valuable experience and perspective to the board," said LHC Board Chairman Lloyd "Buddy" Spillers. "He shares our commitment to improving the quality of life for the citizens of Louisiana. I am pleased that he's agreed to serve in this capacity and look forward to working alongside him to improve affordable housing across the state."
Edwards, a practicing civil attorney in New Orleans, is an alumnus of Tulane University and earned his juris doctorate from Loyola University. He serves on the Louisiana State Bar Diversity Committee and is a member of the Jefferson Parish Bar Association and American Bar Association. LHC is governed by a board of 11 members consisting of the State Treasurer, six members appointed by the Governor, two by the President of the Senate and the Speaker of the House representing various housing sectors and the public.
Statewide Independent Living Council Member Interviewed about Healthcare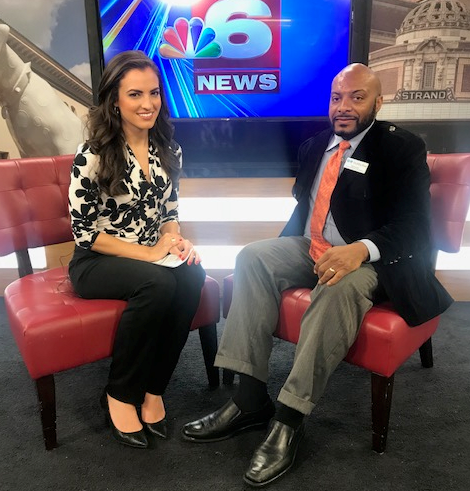 On Thursday, February 15th, RaShad Bristo a community relations representative for Healthy Blue and Statewide Independent Living Council member, was interviewed on local Shreveport NBC station KTAL 6. RaShad who was born with one arm, works in the community in several capacities. He is an author, motivational speaker, and the 2016 Governor's Outstanding Leadership in Disabilities' Ken Vince Award recipient. The interview itself was about Healthy Louisiana, the state's Medicaid and LaCHIP program. Bristo explained the advantages of Louisiana's medicaid expansion and the positive impact it has in the community.
Exceptional Lives Strives to Close the Informational Gap
Exceptional Lives is launching a social media campaign with the hashtag #CelebrateTheWins. The campaign builds off last week's blog post from Julie McIsaac in which she talks about finding ways to celebrate the positive moments of the day - which are often hard to find amidst appointments, meetings, and meltdowns. You can find the blog post here. People are invited to share how they celebrate the small moments - the "wins". Examples can be found on the blog. Don't forget to use the hashtag #CelebrateTheWins so we can share your successes with our broader community!
There is a new Exceptional Lives Louisiana Facebook page where we will be sharing state-specific content. Please encourage your community members and colleagues to join!
Exceptional Lives has also launched additional Guides since its launch last August. The following topics are all now available:
What to do when you think your child may be different
What to do when your child is diagnosed with autism
How to get started with EarlySteps
Getting Special Education Services from the School System
How to get the most from health insurance
How to support the transition to adulthood
Employment: How to prepare for getting a job
How to seek supported living and housing
How to manage decision-making for adult children
Customized Employment Competency Model
U.S. Department of Labor, Office of Disability Employment Policy (ODEP) | EconSys/IFC International January 2011 | Report/Brief
As stated on the Office of Disability Employment Policy website, "Customized Employment is a flexible process designed to personalize the employment relationship between a job seeker and an employer in a way that meets the needs of both."
This guide provides a brief description of the Customized Employment Competency Model, detailing the concept of Customized Employment (CE) and the competencies needed by employment specialists and the Customized Employment support team to successfully provide CE services to job seekers. Click here to access the report/brief: https://www.dol.gov/odep/pdf/2011cecm.pdf.
H.R. 620 ADA Education and Reform Act
H.R. 620, oficially known as the ADA Education and Reform Act of 2017, passed through the House on a vote of 225 to 192 on February 15, 2018. The ADA Education and Reform Act will drastically hurt the same people it is purportedly supposed to help. If this piece of legislation becomes law, it would shift the burden of having and maintaining accessibility from businesses to individuals with disabilities. Under H.R. 620, a business could legally wait six months as they "make progress" towards having the necessary accommodations in place. This bill will roll back disability rights and make accessibility and inclusion for all Americans much harder to attain. Individuals with disabilities have fought long and hard over the past several decades to fight for the rights we have today and there is a lot more work which still needs to be done. Individuals with disabilities have been discriminated against and treated like second class citizens for much of America's history, and we have fought long and hard to secure the rights given to us by the ADA.
The ADA Education and Reform Act would create burdensome and continuous red tape for people with disabilities attempting to exercise their rights under the Americans with Disabilities Act. This places burdens of ensuring the rights to accessibility and inclusion be placed on individuals with disabilities rather than businesses who have had nearly 3 decades to comply with the ADA. Under H.R. 620, Business owners would have 60 days to acknowledge the violation and another 120 days to at least make "substantial progress" towards rectifying it once anyone trying to enforce their rights under the ADA provides a written notice to a business in violation of the ADA. This means that under the bill, places of public accommodation—which have had nearly three decades to comply with the ADA—would have yet another six months just to begin to rectify their violations of the law.
What is needed is investment in education for accommodations and accessibility for not only our businesses, but also for our state and local governments. Businesses and other places of public accommodation have had 27 years to fully comply with Title III of the ADA. Rather than encourage businesses to follow America's laws, H.R. 620 allows for businesses to discriminate without consequence due to their ignorance of the law. It is then left up to the citizens with disabilities, who will be the victims of discrimination because of H.R. 620, to inform businesses they are breaking a law that has been around for decades. This bill will be headed to the Senate. We urge you to contact your Senator regading H.R. 620.