Overview:
The Louisiana Statewide Independent Living Council (SILC) was established by the Rehabilitation Act of 1973 to support the efforts of our citizens with disabilities to live independently in the community of their choice. SILC works to maximize the leadership, empowerment, independence and productivity of individuals with disabilities, facilitating integration and full inclusion into the mainstream of American society.
SILC is composed of twenty-two members appointed by the governor. It is required that the majority of SILC members are individuals with disabilities and provide statewide representation.
Louisiana Statewide Independent Living Council Members
The work of SILC includes:
Jointly develop a State Plan for Independent Living (SPIL)
Monitor, review, and evaluate the implementation of the state plan
Develop strong, positive partnerships with other councils that address the needs of specific disability populations and issues under other federal law
Develop and submit periodic reports to the federal government as required by law, regulations, and/or rule
Prepare a resource plan for SILC in conjunction with the designated state entity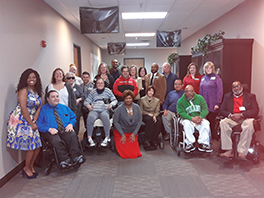 Click here to see the Statewide Independent Living Council in action.
Independent Living Centers
@Southwest Louisiana Independence Center
4320 Lake Street
Lake Charles, LA 70605
Phone (337) 477-7194
Fax (337) 477-7198
Toll Free 1-833-600-5766
216A La Rue France
Lafayette, LA 70508
(337) 269-0027
Fax (337) 233-7660
Toll Free 1-833-600-5766
1104 South Third Street
Leesville, LA 71446
(337) 238-1972
Fax (337) 238-3379
Toll Free 1-833-613-6171
Office Hours: Monday – Friday (8AM to 4:30PM)
New Horizons Independent Living Center
1111 A Hawn Avenue
Shreveport, LA 71107
(877) 219-7327
3717 Government Street, #7
Alexandria, LA 71302
(888) 361-3596
2406 Ferrand Street, #18
Monroe, LA 71201
(800) 428-5505
Resources for Independent Living
2001 21st Street, #101A
Kenner, LA 70062
(877) 505-2260
3233 S. Sherwood Forest Blvd.
Baton Rouge, LA
(877) 505-2260
---
Goals:
The goal of SILC is to ensure Louisiana delivers independent living services that are community-based, consumer-controlled, and for all disabilities. The council advocates for these services to be in compliance with requirements of the Title VII of the Rehabilitation Act while acting in accordance with the Independent Living Philosophy.
The primary purpose of SILC is to monitor, review, evaluate and maintain a State Plan for Independent Living (SPIL). SPIL establishes goals and benchmarks for the independent living services provided to all individuals living with disabilities in our state. To help guide the plan, SILC solicits continual public feedback on the effectiveness of independent living services and the changing needs of the community. SILC collaborates with the Louisiana Rehabilitation Services and many other stakeholders to develop additional capacity to serve and advocate for individuals with disabilities. SILC empowers communities through advocacy, leadership, education, and collaboration. SILC strives to achieve positive and effective solutions by promoting the Independent Living Philosophy.
---
Contact:
Jessica Lewis, Director
(225)219-7552
Click here for upcoming meetings of SILC.