Disability Employment Awareness Month in Louisiana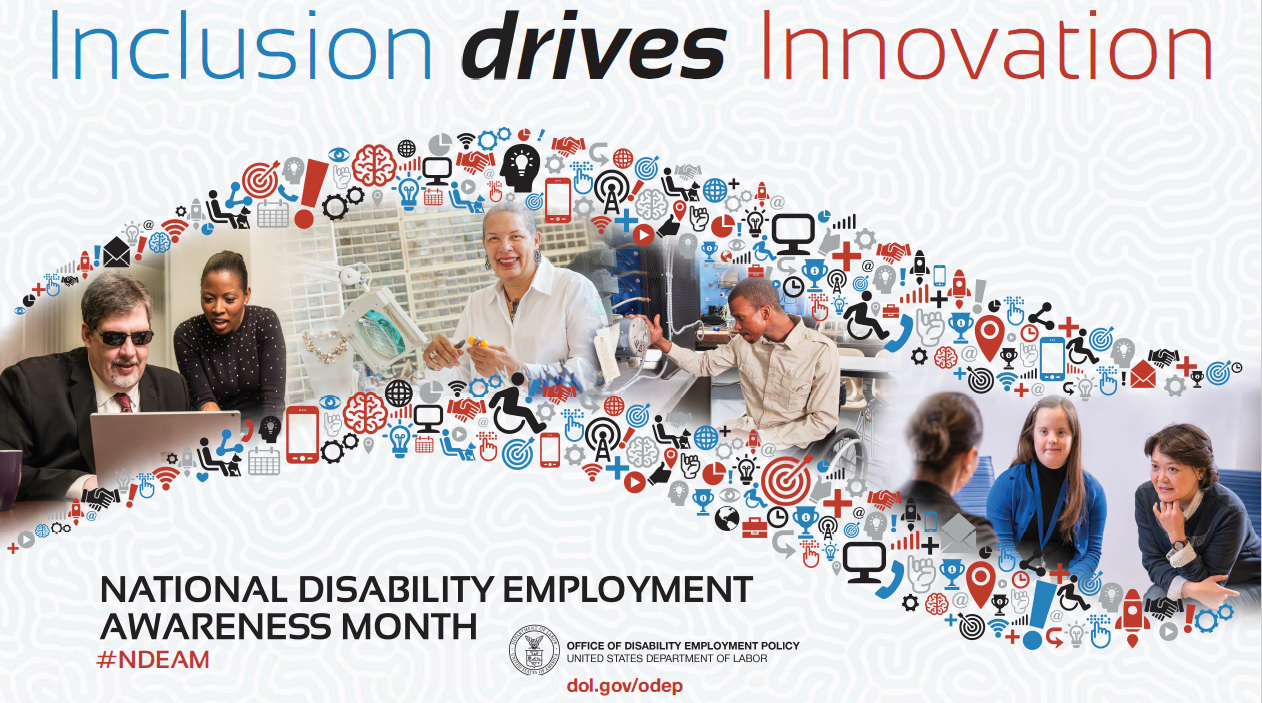 October is National Disability Employment Awareness Month (NDEAM) and Gov. John Bel Edwards has issued a proclamation to highlight the importance of this month. Throughout the month of October there will be several events emphasizing the importance of employment for individuals with disabilities and why it is great for our businesses and communities. In conjunction with NDEAM, the Governor's Office of Disability Affairs will be traveling the state on an Employment First Tour. Employment First is a national movement for competitive integrated employment for individuals with disabilities. The Governor's Office of Disability Affairs is working with the Louisiana Workforce Commission and Families Helping Families to set up the employment first roundtables so we can have discussions regarding the integrated, competitive employment for people with disabilities with representatives from Louisiana Rehabilitative Services, Louisiana Workforce Commission, Human Service Districts/Authorities (Office of Behavioral Health and Office for Citizens with Developmental Disabilities), local school district transition coordinators, support coordinators, supported employment providers, businesses, economic development agencies, self-advocates, and other interested parties. The Employment First Roundtables will be held in the following areas on these dates:
October 10 Lafayette Heymann Convention Center, 1373 College Road
October 12 Lake Charles Lake Charles Civic Center, 900 Lakeshore Drive
October 13 Monroe Public Safety Center, 1810 Martin Luther King Jr Drive
October 16 New Orleans Xavier University, 1 Drexel Drive
October 20 Covington Northshore Pastoral Ctr, 4465 Hwy 190 E Service Rd
October 24 Gray Terrebonne Parish Library, 4130 W Park Ave
October 27 Pineville Main Street Community Center, 708 Main Street
October 31 Shreveport Wyndham Garden Inn, 1419 East 70th Street
The calendar for the Diversity Job fairs being held across the state can be found here.
The topic for GOV Talks this month will be Employment First, and it will be held in the Press Room of the 4th floor of Louisiana's State Capitol on Wednesday, October 25, 2017, at 11 am. To RSVP please email Jolan.Jolivette@la.gov.
Healthcare: Perspective from a Self-Advocate by Randall W. Brown, Jr.
I realize healthcare has become the most polarizing issue in this country and honestly most of us are confused and tuned out. The fact is no one learns about it until they need it, or work with it, so don't feel bad.
Medicaid was created in 1965, on the same day as the more popularly known, and widely liked, Medicare program. People OFTEN confuse the two. They are run by the same agency on the federal level but are two starkly different programs. So in 1965, a socialized medicine system was born in our country (not in 2009) and it was generally supported and sustained by both parties, until 2009. I mean, who doesn't want to take care of the medical needs of their grandmothers and grandfathers?
Fast forward to around 1971, and two things begin to happen in America.
Event 1: Hospitals are allowed by law to turn from the nonprofit model, belonging basically to the local communities they served, into the for profit model, that mainly moved ownership and management of these institutions to the ever larger corporate conglomerate model. Often they are headquartered in bigger cities and further removed from the original mission of medicine in America. They are doing exactly as they are allowed to do … make money for their investors. Their mission simply has become twofold. Insurance companies play a big role, too.
Event 2: Ed Roberts formed a group called ADAPT after they, literally, broke themselves out of institutions in California. They all had significant disabilities. Society, at the time, thought they couldn't handle life out here in the community with "regular" folks. Thanks to advocates, the local, state, and federal laws begin to change... and because of their work the Independent Living Movement was born and begins to slowly change people's minds about people with disabilities in America. President Kennedy signed the Developmental Disabilities Act in 1963, paving the way for every other major law to even happen regarding disability in America. Presidents Nixon, Ford, and George H. W. Bush also signed into law major national laws regarding disability.
The institutional model began to be seen as too restrictive and too costly for government to maintain and care for those of us with significant disabilities … not to mention inhumane (Read A Christmas in Purgatory or watch videos about Willowbrook). Disability advocates began to convince government to use a fraction of that money they had been using to run these massive state run facilities, across the country, to instead use a small portion of those already existing Medicaid program dollars (insurance for the poor and those with disabilities, most whom are also poor because few have good job opportunities available to them, even today) to help create a set of programs called Home and Community Based Services for those with disabilities to be able to live at home, with their families, independently, or in a home setting in the community and still get the medical care and supports they need like public ramps, wheelchairs, service dogs, automatic doors, and elevators. These new programs as they grew in popularity and scope have saved states tons of money and led to better social and life outcomes for us. I work and pay taxes today... for instance.
So all that money the states have saved because of these programs... it went completely into these new programs, right? NOPE. A great majority of those dollars we saved our states through our advocacy went back into the general fund of every state. They use that money for basic government stuff like roads, bridges, schools, big picture stuff we expect from our state government, basically. I'm not against that... except that it does limit the size and availability of funds for our services going forward. This means we have to ask for them to be funded it's not automatic, or a given, that the state will or can fund them every year. Currently and since it began the federal government gives a state roughly a ratio of 2 bucks for every 1 buck the state puts into its Medicaid program... and the states benefit greatly from this long standing partnership. The federal government in turn gets to set the basic standards for what each state must do to receive this money from them. It provides stability, for every party involved, and ensures that vital programs get, and can get more, needed funds when they decide they need them.
Block grants would eliminate this partnership and give each state a large, one time, payment annually and basically say, "ok, state X, do your thing. See you next year." What do you suppose, just using history as our guide, these state governments will do with these huge lumps of federal money, all at once, given to them with no stipulations or restrictions on how to use it? Every state is different... but majority rules and the disability community is anything but a majority, so our issues aren't always easily or necessarily considered or even completely understood. Not out of malice, generally, but if you haven't lived or directly dealt with something... how can you naturally understand it? Even if you can understand, if you don't have enough funds to help how does that understanding or compassion really matter?
These are just some of the things that concern disability advocates across our nation right now as Congress decides, without any robust public debate, the future of our system. If you've read all this and you are saying... All well and good... but my premiums are through the roof... and besides none of this stuff impacts me and mine... Thank God! But, most nursing homes and long term care or rehabilitation programs are paid for not by Medicare, but with Medicaid dollars in every state. For Instances, you get paralyzed tomorrow, it's Medicaid that will keep you alive and on the path to a sustained recovery. Is your grandmother in a nursing home? Chances are Medicaid is making her care there possible. Retiring soon... if you didn't save enough no matter how hard you worked... you will need Medicaid in your future... under a block grant system, I sincerely hope it will be there for you, in your state, but as a person with a lifetime disability and 39 years of experience with the system and human behavior, within it, I'm not willing to take that bet. If a state happens to run out of money before they run out of year... the costs of any long term care they need to provide those with serious medical conditions will be passed on to taxpayers now imagine if we have to multiply those costs by as much as 50! I don't want these things to happen and I hope they don't but I don't want to gamble with your healthcare or mine. I sincerely respect everyone's perspective... but this is mine that I thoughtfully attempted to present to you as succinctly as a subject this complex and broad could be. I hope it helped you better understand the perspective of a person with a disability today.
Statewide Independent Living Council (SILC) will meet October 5 and 6
The Statewide Independent Living Council will have their quarterly meeting on Thursday October 5, 2017 from 1pm-4pm and Friday October 6, 2017 from 9am-12pm at
American Red Cross located at 4655 Sherwood Common Boulevard in Baton Rouge. The council will discuss the progression of the State Plan on Independent Living (SPIL) and how to improve the Independent Living Philosophy. The goals the council will discuss are increased overall awareness, increased participation in Independent Living initiatives, innovative development strategies and ensuring SILC autonomy. SILC guest speakers are Amy Dawson regarding emergency preparedness for people with disabilities, Liz Gary regarding Partners in Policymaking and Melody Doucet, regarding non-emergency medical transportation. If you would like to attend and need special accommodations, please contact the Executive Director Jessica Lewis at 225-219-7552. Click here to view the slideshow featuring SILC members and their activities in the community.
First Lady Donna Edwards to be presented with the Champion Award
Families Helping Families of Southeast Louisiana will present the Champion Awards honoring Louisiana First Lady Donna Edwards and Valero Meraux Refinery. You are invited to join Southeast Louisiana Families Helping Families on October 10, 2017 for this special ceremony. The Champion Awards were inaugurated in 2016 to recognize individuals and corporations who have distinguished themselves either through their advocacy, their leadership or their philanthropy. Since 2007, FHF has served thousands of families providing advocacy, support, resources and hands on assistance when needed. FHF of SELA envisions a region where people with disabilities live and are fully included in school, work, and recreational activities. Our mission is to educate and empower individuals with disabilities, their families, professionals, and communities by providing resource, training, and family-to-family support.
Families Helping Families of Southeast Louisiana is an oasis for families and individuals in a landscape where the social safety net is almost non-existent. With federal and local budget cuts, FHF of SELA, through a small and dedicated staff, has been able to maintain significant programing including a Career Symposium, the PRISM Project (an inclusive performing arts program for children), and school/ hospital crisis intervention services. The Awards will be held from 6:00-8:00pm on October 10, 2017 at Jones Walker Law Firm in New Orleans. For more information, contact Carole Berke at Carole@CaroleBerkeAssociates.com or 504-232-0890 or visit www.fhfsela.org.
First Responder Training on Autism
The Autism and Law Enforcement Education Coalition (ALEC), the Louisiana State Fire Marshal's Association, and Louisiana Office of State Fire Marshal are partnering together to offer a free First Responder Training on Autism in Zachary. The dynamics of the course will offer positive tools to aid first responders with different techniques to address filed contact, communication and behavior, sensory issues, de-escalation techniques resulting in arrest as well as restraint and custody issues. In addition, the course will provide information on how first responders can identify an individual with Autism and discuss contrasting situations. The primary objective of the course is to educate first responders when contacting individuals with Autism. The training is from 8:30am-3:00pm on October 24 at First Baptist Church of Zachary located at 4200 Main Street. To register for this training, click here. For more information on this training, you can contact Gayle Leblanc or Alton Teekel at 225-925-4911.
Louisiana Association for the Blind Announces President/CEO Retirement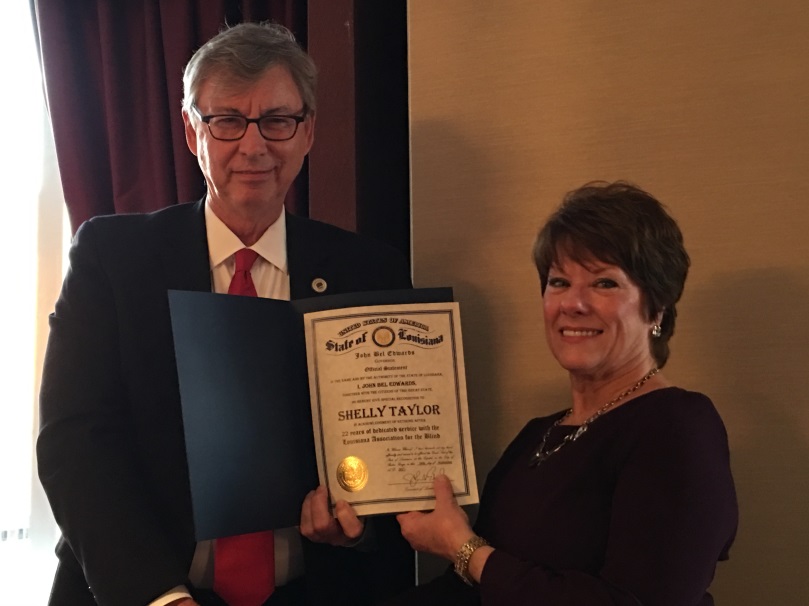 The President and CEO of Louisiana Association for the Blind (LAB), Ms. Shelly Taylor, has retired from the organization effective September 30, 2017. Ms. Taylor joined LAB in 1995, serving in numerous management and executive positions prior to being selected by the Board of Directors to lead LAB as its President and CEO in 2008. During her 22 years of service, Ms. Taylor has built LAB into a social enterprise offering numerous opportunities for employment, and for vision rehabilitation services to Louisianans of all ages. At the national level, Ms. Taylor has served on the boards of the National Association for Employment of People Who are Blind, National Industries for the Blind, VisionServe Alliance, and Rotary International. She also serves on the board of Literacy Volunteers of Centenary College, and over the years has volunteered with numerous other nonprofit organizations dedicated to human service. Through her leadership, Ms. Taylor has changed the lives of hundreds of individuals who have received services from or have been employed by LAB. Her diligent pursuit of excellence for LAB has positioned the organization to remain vital and self-sustaining for years to come. Ms. Taylor's accomplishments and selfless service were recognized by Governor John Bel Edwards in an official statement issued on September 20th.
LASARD High School Workshop
The Louisiana Autism Spectrum and Related Disabilities Project (LASARD) is hosting a workshop in both New Orleans and Natchitoches titled "Breaking Barriers and Building Social Skills for Life." Individuals on the Autism spectrum experience social challenges. Developing social interaction skills is a critical need- an important piece of a student's individual education plan that is crucial to student success in school, at home, and in the community. Teaching social interaction skills may seem somewhat overwhelming. Questions may arise such as "Where do I begin?" "What do I teach?" "How do I teach it?" and "Where do I teach it?" This workshop is geared toward high school professionals and family members, and will provide you with how-to for evaluation, support, and teacher social interaction skills in school, home, and community settings. These workshops will be from 9:00am-3:00pm on their respective dates. In New Orleans, the workshop will be held at the LSU HSC Human Development Center and in Natchitoches, it will be held at the Natchitoches Event Center.
To register for the New Orleans workshop on November 2: click here.
To register for the Natchitoches workshop on November 8: click here.
Capital Accessibility Survey
The Governor's Advisory Council on Disability Affairs (GACDA) has created a survey to gain a better understanding of the challenges Louisiana citizens with disabilities face at the State Capitol. This survey will allow people to provide information on accessibility issues they are aware of both inside and outside the Capitol and will allow feedback for the challenges encountered by people with all types of disabilities. GACDA members will then review the results of the survey and make recommendations for change to the governor and the legislature. GACDA will be seeking your help in spreading the word about this survey to as many people as possible so that the State Capitol can be accessible as possible to everyone. The survey can be completed at the following link: https://goo.gl/forms/lXGQrVNGmRfC6QBT2
Statewide Transportation Needs Survey
The Governor's Advisory Council on Disability Affairs (GACDA) is still collecting responses to the transportation survey to gather data regarding the needs for accessible transportation across our state. GACDA will review the results of the survey over the next year and make recommendations to both the governor and the legislature based on the data collected. GACDA is asking for your help in sharing the survey to gain as much information as possible about the transportation needs of those with disabilities in our state. The survey can be completed at the following link: https://www.surveymonkey.com/r/23P3SJX.
GOLD Awards to be Held on November 15
The Governor's Office of Disability Affairs (GODA) will host the Governor's Outstanding Leadership in Disabilities (GOLD) Awards on November 15, 2017, at the Old State Capitol. The GOLD Awards recognizes extraordinary individuals and organizations who have contributed their time and talents to benefit the lives of people with disabilities in Louisiana. Two new awards this year are the Elected Official of the Year and the Public Servant of the Year. Governor John Bel Edwards will welcome guests to the GOLD awards. We look forward to this celebration of the service and leadership demonstrated by so many in our great state.
Judges for Inclusive Art Contest
To bring greater awareness of the importance of inclusion in today's society, the Governor's Office of Disability Affairs (GODA) presents the 2017 Inclusive Art Contest. Inclusive Art entries have been submitted illustrate or describe ideas related to this year's theme "Together We Succeed." GODA is seeking judges to review and decide how well the theme of inclusion is illustrated in the artwork on October 9th, 2017. If you have a background in art someone who loves art and want to help judge, please contact Jolan Jolivette at jolan.jolivette@la.gov for more information. Award medals and special recognition from First Lady Donna Edwards will be presented to the artists who submit winning artwork on November 15th, 2017, at the Inclusive Art Show at the Old State Capitol. First Lady of Louisiana Donna Edwards will present the awards to the winning artists.