Continual Budget Cuts Take Toll on People with Disabilities and Their Families
The days of ostracizing people with disabilities from their communities and putting them into institutions are in the past. Yet, it seems that terrible past is making its way back when the state's budget does not make the needs of individuals with disabilities a priority. In the past decade, there have been yearly and midyear budget cuts that have decimated departments, agencies, programs, and services. There are some who say "cut more," but they offer no viable options of what to cut. With statutory, constitutional, and federal restrictions on how money can be spent, it leaves limited alternatives. Unfortunately, those "options" include cutting services that people with disabilities desperately need. There are those who say "we can cut more without cutting services for people with disabilities," but their votes and actions tell a different story.
When we do not invest in our children we do not invest in our future, but what's even worse and unforgiveable is when we make excruciating cuts year after year to the Department of Children and Family Services (DCFS) which hurts our greatest resource, our children. Families of people with disabilities are more likely to require services through DCFS because of the high demands of caring for a person with a disability require family members to be unemployed or underemployed in order to meet the needs of their family member.
Since 2008, the DCFS operating budget has been cut by 32.6%. There has been continual cuts to the DCFS operating budget totaling $365.1 million, which includes $56.2 million cut from the state general fund, a loss of $72 million from interagency transfer, a loss of $10.7 million of statutory dedications, and a loss of $227.7 million of federal funds. This year DCFS is facing another excruciating cut of $69.8 million which would do away with 67 child welfare positions, 11 child support enforcement positions, and 50 economic positions. DCFS has 1400 fewer staff positions today than it had 9 years ago. That's a 27.7% decrease.
With over $720 million in cuts to the Louisiana Department of Health, critical health care services, many of which affect our children, people with disabilities, and elderly, programs and services that create better outcomes will be negatively impacted or eliminated . This means funding will be cut for human service districts and authorities and home and community based waiver slots as well as numerous other programs that are needed to meet individual needs. There are over 15,200 people with developmental disabilities who are on a waiting list for waiver services. The last date served on the waiting list was 8/18/2004, which is 13 years and counting. The waiting list grows by an average of 100 people per month. Rather than institutionalize individuals, friends, and family, we should realize that waiver services are more cost effective and result in better quality outcomes for individuals with developmental disabilities. There are also 10 Human Services Districts/ Authorities created legislatively throughout the state, which receive funding to give services to provide immediate access to supports for people with developmental disabilities, many of whom are still on the waiver waiting list, as well as people with behavioral health needs. EarlySteps, which helps our babies and toddlers with disabilities, is facing devastating budget cuts once again this fiscal year. The proposed cuts to EarlySteps would further limit access by eliminating five more established medical conditions from the current eligibility criteria; the reduce required number of team meetings for children in their second year of services (excluding transition year) to 1 per year; and remove the maximum income cap up to full amount of service cost based on family income. Unless these cuts are restored by the Senate, LDH is forced to consider eliminating the following programs and services: Individual and Family Support program in many regions of the state, Flexible Family Fund program in many regions of the state, State Personal Assistance Services (SPAS) , ALL community-based behavioral health services, Adult pharmacy program, and contracts with Families Helping Families Regional Resource Centers .
Louisiana Rehabilitation Services (LRS) helps people with disabilities join the workforce, but because of these yearly budget cuts, LRS is not working with any new people causing people who would like to work and become independent and productive citizens to put their lives and futures on hold. There are 372,144 Louisiana citizens of working age who have disabilities; 33% are employed and 67% are unemployed while 30% of individuals with disabilities in Louisiana live in poverty. For every $1 of state funding budgeted to LRS to assist individuals with disabilities in obtaining employment, $3.69 in federal funds are matched. From 2009-2016, the average federal matching funds available for vocational rehabilitation services was $54.5 million per year but Louisiana only leveraged $34.2 million per year. Total federal funds of $162.3 million originally allocated to Louisiana from 2009-2016 was reallocated to other states due to Louisiana's failure to appropriate matching funds.
In 2010, LRS was able to serve over 29,000 clients through the Vocational Rehabilitation Program, but after several years of budgets cuts, the number of clients LRS serves has now been cut to 17,000. Due to reduction in funding, no new clients will receive services throughout 2018. The waiting list has gone from about 1,000 people in 2012 to over 4,100 people in 2017. Due to budget reductions, LRS will be unable to fill staff positions as they become vacant. Staff has decreased from 326 in the 2010 fiscal year to the current staff number of 213. By June 2018, staffing levels may be at the 175 to 170 range.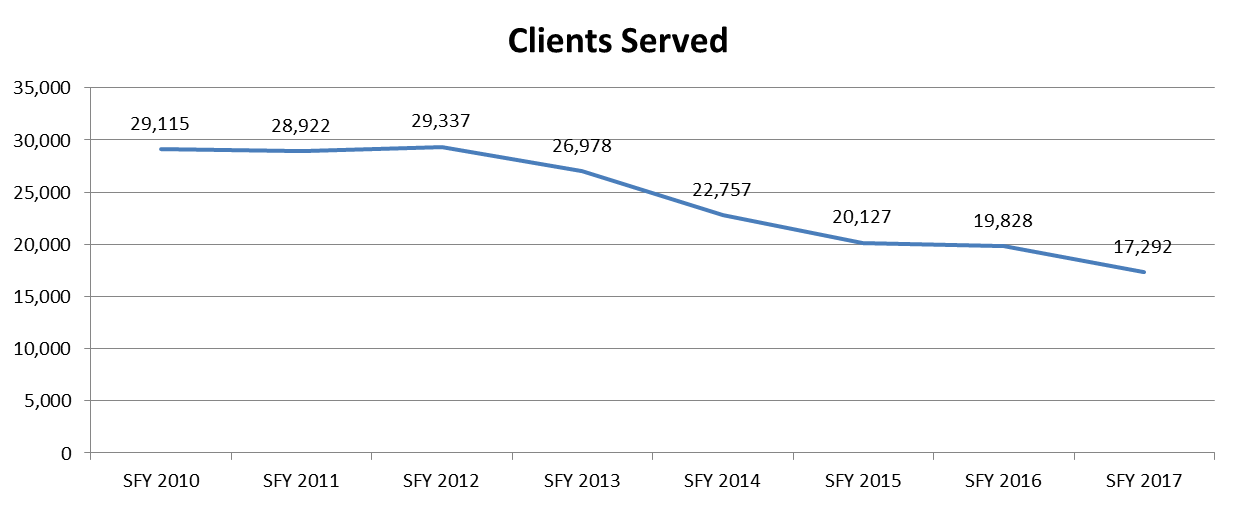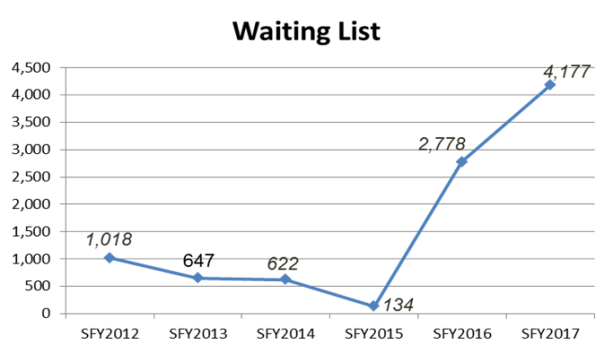 The state general fund match of $14.9 million is needed for the full vocational rehabilitation federal funding of $55 million. Currently, HB 1 only includes state funding of $6.4 million which will allow for federal matching funds of $23.6 million leaving $31.4 million on the table.
These cuts severely harm individuals with disabilities. The question is how can we help our citizens achieve their potential and have better outcomes if we choose not to invest in them? Helping individuals seek employment, join the workforce, and helping our children with disabilities get the supports they need in their homes and communities should not only be a priority because it makes sense and is fiscally responsible but because it's the right thing to do. Mothers should not have to come to the capitol with their children year after year to fight for the funding of programs that keep their children, friends, or coworkers in their community alive. Louisiana should focus on creating better outcomes for its citizens. The time to invest is now!
ADA Symposium
The Governor's Office of Disability Affairs will host the ADA Roundtable Symposium on Wednesday, July 26, 2017, at the Claiborne Building in the Louisiana Purchase Room. The ADA Symposium is free to attend and will feature national accessibility expert Kristi J. Avalos, the President and CEO of Accessology. Those in attendance will be able to participate in a Q & A session with Ms. Avalos and discuss various topics relative to accessibility in Louisiana. There will also be breakout sessions for businesses, local governments, and higher education to further network and discuss programmatic and physical accessibility. We are looking forward to having ADA coordinators, human resource directors, governmental agencies, advocates, university administrators, engineers, business men and women, and self-advocates in attendance. For more information contact Jolan Jolivette at Jolan.Jolivette@la.gov or (225) 219-7553. To RSVP register here.
Inclusive Art Contest
To bring greater awareness of the importance of inclusion in today's society, the Governor's Office of Disability Affairs (GODA) encourages you to participate in the 2017 Inclusive Art Contest. GODA will be accepting entries that illustrate or describe ideas related to this year's theme and accompanying definitions of inclusion of persons with disabilities. This year's theme is "Together We Succeed." Award medals and special recognition from Governor John Bel Edwards will be presented to the artists who submit winning artwork. The Inclusive Art Contest is open to all residents of Louisiana. Contestants are encouraged to use art as a means to share their vision, experiences, and talents to demonstrate this year's theme. Click here for the registration form.
Volunteer Income Tax Assistance (VITA) available year round at Independent Living Centers
Recognizing that economic stability is a major barrier to independent living, seven years ago, New Horizons Independent Living Center (NHILC) began collaboration with the Internal Revenue Service to prepare free income taxes for working, low income taxpayers with disabilities through the Volunteer Income Tax Assistance (VITA) program. The NHILC VITA program is now open all year to serve the community as well as people with disabilities. NHILC is unique in that the organization is able to provide needed accommodations for taxpayers with disabilities. New Horizons is one of three Louisiana Centers for Independent Living and serves the 29 parishes of north Louisiana.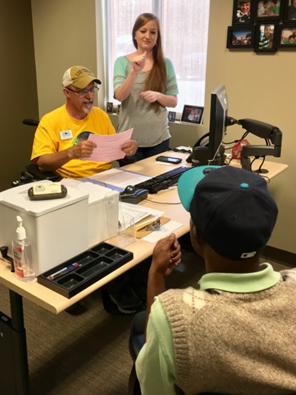 New ADA Improvements Come to Festival International
The Lafayette Consolidated Government Mayor-President's Awareness Committee for Citizen's with Disabilities, in partnership with Festival International, made massive headway this year in the name of accessibility and inclusion.
For the first time in its thirty-one year history, ADA compliant seating, parking and port-o-lets were included on the Festival map, as well as a detailed list of accessibility services provided on the Festival website. These changes were brought forth by the Disability Awareness Committee and were implemented over a year's time. The Committee worked hand in hand with Festival International Executive Director, Scott Feehan, as well as Festival Production Director, Diane Harris, to increase signage, improve the ADA seating placement and better educate the public about services offered. Committee Vice-Chair Nell Hahn assisted with the wording of the website information.
While taking these great steps forward, they know that it is only the beginning and they will continue to improve. If you had the opportunity to attend the Festival and saw or experienced the improvements, they want to hear from you! Please send any questions or feedback regarding Festival International ADA improvements to disability@lafayettela.gov.