Updated 3/9/18 1:19PM
---
REGULATORY RELIEF & GOVERNMENT STREAMLINING
Louisiana ranks 6th in the nation for the most broadly and onerously licensed states for occupational licensing requirements according to the Institute for Justice's 2017 report - License to Work: A National Study of Burdens from Occupational Licensing, 2nd Edition.


HB 562 by Rep. Julie Emerson & SB to be filed by Sen. Francis Thompson establishes the Occupational Licensing Review Act providing for a sunrise and sunset review process of occupational regulations. Each state agency is charged with using the analysis and guidelines outlined in the measure to recommend as part of the sunset review process the enactment of new legislation to repeal occupational regulations, convert the occupational regulations to less restrictive regulations, or instruct the relevant licensing board or agency to promulgate revised regulations reflecting the legislature's decision to use a less restrictive regulation.


HB 561 by Rep. Julie Emerson repeals occupational license provisions relative to retail and wholesale florists. Louisiana is the only state in the nation that licenses florists.


HB 539 by Rep. Walt Leger - Provides for fees for expedited licensing surveys for facilities and providers licensed by the La. Department of Health. The legislationprovides for six expedited licensing functions to be assessed at the tier 1 level; 14 expedited licensing functions to be assessed at the tier 2 level; and 27 expedited licensing functions to be assessed at the tier 3 level.


HB 687 by Rep. Jerome Zeringue – Streamlines recreational hunting and fishing licenses by reducing the number of licenses from 117 to 30.
---
STAMPING OUT WASTE, FRAUD AND ABUSE
SB 238 by Sen. J.P. Morrell authorizes the Department of Revenue to seek to enjoin tax preparers who engage in certain fraudulent conduct.


SB 239 by Sen. J.P. Morrell authorizes the Department of Revenue to refuse to issue a resale certificate to a newly reorganized business if the purpose of the business reorganization was to evade payment of sales and use or withholding tax.
---
STRENGHTENING EMERGENCY RESPONSE
SB 262 by Sen. Ryan Gatti allows the governor during a gubernatorially declared disaster or emergency to suspend liberative prescription and peremptive periods for all legal proceedings by executive order or proclamation, and extends the period in which residents may file a claim against an insurer pursuant to R.S. 22:868 by executive order or proclamation.


HB 358 by Rep. Foil and Rep. Valarie Hodges authorizes a registry and credentialing of volunteers in disaster or emergency response, provides limitations of liability for volunteers, and adds provisions governing leave from employment for volunteers deployed on a mission.
---
REFORMING CAPITAL OUTLAY
HB 146 by Rep. Paula Davis provides relative to economic development criteria for late approval under the Capital Outlay Program.
---
IMPROVING K-12 EDUCATION
HB 587 by Rep. Frank Hoffmann allows teachers to acquire tenure if they have ratings for five (out of six) years of "effective: proficient" or "highly effective". Currently a teacher needs a rating of "highly effective" for five (out of six) years.


HB 651 by Rep. Frank Hoffmann reduces the role of the Value Added Model (VAM) in a teacher's evaluation from 35% to 15%.


SB 152 by Sen. Blade Morrish requires BESE to report two sets of school- and district-performance scores in years when the calculation formula for these scores have changed.


SB 205 by Sen. Gerald Boudreaux- Provides requirements in the areas of transparency and accountability for for-profit organizations that manage Type 2 charter schools.
---
PROMOTING EARLY CHILDHOOD EDUCATION
As chair of the Southern Region Education Board, Gov. Edwards leads the collaborative work of governors, legislators and state education leaders to improve public education at every level, from early childhood through doctoral education.


HB 676 by Rep. Stephanie Hilferty creates the Early Childhood Care and Education Commission to establish a vision for accessible, quality early childhood care and education to be implemented through pilot programs established by the Board of Elementary and Secondary Education at the community network level.


The Commission will work in close partnership with the National Governor's Association and National Conference of State Legislators.
---
NO KID HUNGRY LOUISIANA
In September 2017, the Governor launched Louisiana's No Kid Hungry Initiative with a goal of eliminating childhood hunger. 1 in 4 Louisiana children remain in poverty, and it's estimated that over 270,000 children suffer from hunger in Louisiana every year.


Our legislative efforts are designed to ensure that public school children have access to nutritious school meals despite their family's fiscal challenges.


SB 245 by Senator Blade Morrish and HB 284 by Rep. Patricia Smith prohibits a governing authority from taking certain actions because a student cannot pay for or owes money for a meal, including publicly identifying or stigmatizing a student, withholding school privileges, scolding the student orally or in writing; or requiring the student to throw away a meal after it has been served.
---
CULTIVATING LOUISIANA SMALL BUSINESSES
Small businesses account for 99.5% of Louisiana businesses according to the U.S. Small Business Administration, Office of Advocacy. Our goal as an administration is to build a robust system for addressing the needs of entrepreneurs and small business owners and building capacity of small businesses to stimulate company growth.


HB 591 by Rep. Walt Leger creates the Louisiana Small Business and Entrepreneurship Council with the charge of advising Louisiana Economic Development and the Governor on issues affecting the competitiveness of small businesses in Louisiana.
---
PROTECTING VICTIMS OF SEXUAL HARASSMENT
Every person, whether they work in state government or the private industry, should be able to do their jobs without fear of being sexually harassed or discriminated against. Governor Edwards has consistently said that any instances of sexual harassment in the workplace should not be tolerated. Furthermore, we must ensure that victims of sexual harassment are not silenced.


HB 578 by Rep. Robert Johnson seeks to lift the veil of secrecy in cases of sexual harassment by prohibiting employers from mandating forced arbitration.


SB 369 by Sen. Regina Barrow protects the identity of individuals reporting instances of sexual harassment or discrimination from public disclosure.


SB 447 by Sen. Regina Barrow requires each public employee and elected official to receive at least one hour of sexual harassment training annually. New hires must complete the required training within the first 30 days of employment. Newly elected officials must complete the training within the first 90 days of office.
---
FIGHTING THE STATE'S OPIOID EPIDEMIC
Governor Edwards continues to fight the state's opioid crisis through policy change and recent legislative wins that limit prescriptions to opioids. In January 2018, the Louisiana Department of Health (LDH) renewed the standing order for the life-saving medication Naloxone to ensure that laypeople who are helping a person who has overdosed or who is at risk of an overdose on heroin, morphine or another opioid drug can continue to receive the medication without having to obtain a direct prescription from a physician.


HB 658 by Rep. Walt Leger, III establishes a neonatal opiate withdrawal syndrome pilot program within the Louisiana Department of Health to treat infants with neonatal opiate withdrawal syndrome by providing care options that are safe alternatives to the intensive care unit in existing community or hospital settings for eligible mothers and infants.
---
PRIORITIZING MILITARY FAMILIES
Service members are not the only ones making sacrifices to serve our country. The spouses and children of military families give up a great deal when their loved ones are called to serve at a new station far away from the place they call home. Several measures have been filed to support the licensing of military members who are separating from an active duty tour, and their spouses, among other specified objectives.


SB 198 by Sen. Barrow Peacock authorizes the state to enter into a multistate Emergency Medical Services Personnel Licensure Interstate Compact.


SB 202 by Sen. Barrow Peacock authorizes the state to enter into a multistate Nurse Licensure Compact.


SB 203 by Sen. Barrow Peacock authorizes the state to enter into a multistate Physical Therapy Licensure Compact.


SB 114 by Sen. Barrow Peacock further provides under the Military Service Relief Act that persons called to service in the uniformed services may suspend or terminate certain contracts, such as telephone services, internet services, satellite radio services, and utility services.


HB 150 by Rep. Bernard LeBas authorizes the La. Board of Pharmacy to waive license and certification renewal fees for military spouses.
---
RECOGNIZING THE SACRIFICES OF GOLD STAR FAMILIES
The Governor's Office has partnered with the Louisiana Department of Veterans Affairs, the Louisiana Gold Star Families Honoring Committee, the Hershel "Woody" Williams Medal of Honor Foundation, and the National WWII Museum to collectively spearhead the building of a Gold Star Families Memorial Monument in Louisiana.


SB 175 by Sen. Jonathan Perry provides for a monument honoring the sacrifices of Louisiana Gold Star Families to be placed and maintained in an appropriate area on the east side of the state capitol on the grounds surrounding the Old Arsenal Museum known as the Louisiana Veterans Memorial Park.
---
ELIMINATING THE SILENT CULTURE OF HAZING
In the Fall of 2017, Governor Edwards urged Louisiana's higher education institutions to carefully review hazing, alcohol and drug policies across all student organizations in the wake of the death of Maxwell Gruver. It is important that we as a state create a culture across Louisiana's college campuses that welcome the reporting of incidences in violation of a student code of conduct or other policy without the fear of reprisal.


HB 270 by Rep. Franklin Foil exempts from the Public Records Law personally identifiable information of persons who report a violation of a student code of conduct or other policy intended for the safety of students or employees of postsecondary education institutions, reported witnesses of such violations, and under certain circumstances, the reported victim.


To be filed: Recognizing that no student should feel pressured into or subjected to reckless and life threatening hazing rituals, Gov. Edwards will take steps to eliminate instances of hazing throughout the state. That is why we will be supporting legislation that requires hazing prevention education. Arming students with the knowledge to identify and report instances of hazing could save a life down the road.
---
LIFTING FAMILIES OUT OF POVERTY
Louisiana has one of the highest rates of poverty in the nation at 20.2% according to recent data published by the U.S. Census Bureau. SB 455 by Sen. Regina Barrow provides for the Moving Families from Poverty to Empowerment Strategic Plan as a coordinated effort among state departments to address the needs of the state's economically disadvantaged families through state or federal anti-poverty, economic development stimulus, or other programs to implement the strategic plan.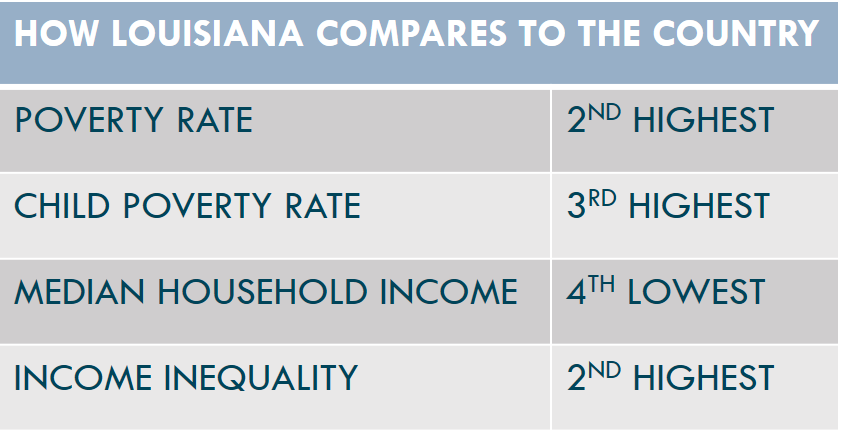 Source: Louisiana Budget Project
---
EXPLORING AN EXTENSION OF FOSTER CARE THROUGH AGE 21
There is a need in Louisiana to provide youth who will exit foster care at age eighteen with opportunities to be meaningfully involved in a comprehensive transition planning process focused on the development of independent living skills in areas such as: establishing safe, stable, and affordable housing; accessing health insurance and healthcare services; completing an educational/vocational training program; pursuing employment opportunities; and creating healthy, permanent, connections.


To be filed by Sen. Regina Barrow. Sen. Regina Barrow will author a Senate Concurrent Resolution requesting the Department of Children and Family Services to explore the feasibility of extending the age of foster care in Louisiana through 21.
---
ENSURING EQUAL PAY FOR EQUAL WORK
The Governor's continued goal in advancing equal pay legislation is to rid the state of its status as having the highest gender wage inequity in the country.


SB 117 by Sen. J.P. Morrell and HB 251 by Rep. Joe Bouie extend the Louisiana Equal Pay Act to state contractors.


SB 149 by Sen. J.P. Morrell and HB 328 by Rep. Patrick Jefferson eliminate pay secrecy by prohibiting employers from taking actions against employees for inquiring about, discussing or disclosing their wages or another employee's wages.
---
CREATING A STATE MINIMUM WAGE
Louisiana is one of only five states that has not adopted a state minimum wage.


SB 162 by Sen. Troy Carter provides for a modest, but meaningful increase to the minimum wage. A state minimum wage will be established at $8.00 per hour beginning Jan. 1, 2019 and $8.50 per hour beginning on Jan. 1, 2020.
---
ESTABLISHING A NATIVE AMERICAN COMMISSION
The Governor's Office of Indian Affairs seeks to enhance the individual and collective communities of indigenous people in Louisiana by serving as a resource and referral agent for Louisiana Native Americans and tribes seeking assistance navigating local, state, and national policies.


HB 660 by Rep. Tanner Magee creates the Native American Commission within the Office of the Governor to advise the Office of Indian Affairs regarding issues pertaining to Native Americans, identify the needs and concerns of Native Americans in Louisiana and establish criteria for state tribe recognition.


The Commission is also charged with conducting a comprehensive review of all state departments and agencies to identify obstacles to the effective delivery of governmental services by all service providers at all levels of government to Native Americans.
---
CRIMINAL JUSTICE REFORM
The Administration will defend the criminal justice reforms enacted in 2017 and support targeted clean-up measures while also actively supporting implementation efforts through the Justice Implementation Oversight Council.
---
PROTECTING LOUISIANA'S SENIORS
Governor Edwards is committed to protecting Louisiana's aging population from unconscionable abuse often at the hands of family members and caregivers.


HB 398 by Rep. Gary Carter strengthens the penalties for the crime of sexual battery of persons with infirmities from not more than 10 years to not more than 20 years of imprisonment. The measure further provides that if the victim is a resident of a nursing home, facility for persons with intellectual disabilities, mental health facility, hospital, or other residential facility and the offender is an employee of such home or facility, the offender shall be punished by imprisonment, with or without hard labor, for not more than 25 years.


SB 355 by Sen. Danny Martiny & HB 503 Rep. Thomas Carmody – Empowers financial institutions to curb the financial exploitation of seniors (individuals 60 years of age or older) by requiring a director, officer, employee, attorney, accountant, or other agent of a financial institution who has cause to believe that financial exploitation has occurred to notify the financial institution of the suspected financial exploitation.
---
RE-ESTABLISHING THE STATE'S HIV/AIDS COMMISSION
HB 535 by Rep. Pat Smith re-creates the Louisiana Commission on HIV, AIDS, and Hepatitis C and houses it within the Louisiana Department of Health, Office of Public Health. The Commission expired on September 1, 2017.
---
HEALTHY MOMS & HEALTHY BABIES
Consistently, Louisiana has ranked among one of the worst rates of maternal mortality in the nation and that is simply unacceptable to me," said Gov. Edwards. "I have tasked the Louisiana Department of Health with closely examining the factors contributing to the increased incidences of maternal mortality in our state and developing an extensive report on the policy and practice recommendations we can implement in order to turn the corner on this disturbing trend. We owe it to mothers to make Louisiana a safe and sound place to give birth and build a family.


A bill will be filed creating an Avisory Council on Healthy Mothers, Healthy Babies to study the increased incidences of maternal mortality in Louisiana.