Disability Rights Day 2017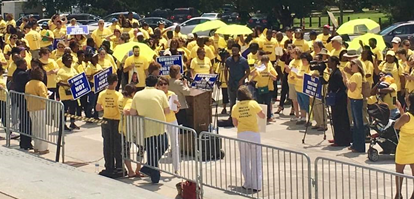 On Tuesday, April 26, 2017, hundreds of individuals from LaCAN participated in the Disability Rights Day at the Louisiana State Capitol. This event was coordinated by the Louisiana Developmental Disabilities Council and featured keynote speakers Jeff Arseneaux and Doris Heckert. Those in attendance were encouraged to meet with their legislators to discuss the importance of funding various supports and services that individuals with disabilities need to live in their own homes and be fully participating members of their communities. Steve Spires with the Governor's Office spoke at the rally and presented a certificate recognizing the efforts of the organizers and participants of this day of advocacy and awareness.
For more information about upcoming disability related events please visit our calendar.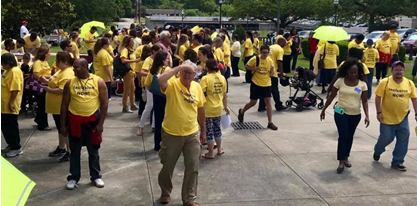 La Rehab Services: Lack of Funding Selling People and Employers Short
(Written by Linda Kocher, member of the Governor's Advisory Council on Disability Affairs)
As a result of continued budget cuts, Louisiana Rehabilitation Services isn't working with any new people, and doesn't expect that situation to change in the next year. People who qualify for the program are being put on waiting lists, and their futures are put on hold.
What LRS does is work with people who have disabilities, who are receiving subsidies, and who want to join the work force. When it's functioning properly, LRS will determine how best to train the person and decide the best type of job for him, then contract with a job-finding vendor to put him to work. The goal is for the person to have a good competitive job working around people who don't have disabilities, making enough money to receive little or no subsidy, and be a tax paying member of the community. This is the financial component of the issue. Additionally, the person has a real future instead of a lifetime of sitting at home all day. This is the moral component of the issue.
Adding insult to injury is that we lose matching federal money - $3.69 to the state's $1 - because the state isn't investing our tax money in our people and our future. It's essential that we fund programs like LRS, programs that benefit the state financially. Since 2009, over $162 million in federal funds have been lost to other states due to insufficient state dollars needed to draw down LRS' full federal allotment. LSU issued a Cost-Benefit Analysis of LRS for Fiscal Years 2009-2013. The report shows that the Return on Investment for every $1 spent on LRS services is $17 over 5 years. From 2009 to 2013, employment stemming from LRS cases generated an estimated $65 million in state and local taxes.
I'm familiar with Louisiana Rehab Services because of a family situation, and I know how successful it can be. My son, who was receiving SSI checks, now has a good job at a law firm. Instead of a government subsidy, Michael has salary, insurance, vacation days, and participates in a 401K program. He has colleagues, he's part of a team, he contributes to the firm's success, and he has dignity. When someone asks him, "What do you do?", he has an answer. There are thousands of people just like Michael who should be in the workforce. They would be good employees, but the state's lack of funding and investment is selling them, and potential employers, short.
Cuts to EarlySteps
EarlySteps, which helps our babies and toddlers with disabilities, is facing devastating budget cuts again this fiscal year. To understand how revenue gaps and cuts to funding have negatively impacted EarlySteps over the years we must look at when the eligibility criteria for EarlySteps changed. In 2012, the eligibility criteria changed from a child having one area of need to two areas of need with no changes to the eligibility criteria for established medical conditions. In 2013, Family Cost Participation was enacted and families are required to pay $18 to $30 per early step visit. Prior to this, there was no cost participation for eligible children.
The proposed cuts to EarlySteps would further limit access by eliminating the following established medical conditions from the current eligibility criteria: developmental apraxia, prematurity for children over 1-yr age and children over 33 weeks gestation, cleft lip and palate post-surgery, brachial plexus injury and torticollis, general categories related to substance exposure, and hearing or vision loss (unilateral loss only). Other negative effects due to the cut would reduce required number of team meetings for children in their second year of services (excluding transition year) to 1 per year, and remove the maximum income cap up to full amount of service cost based on family income.
Success With EarlySteps!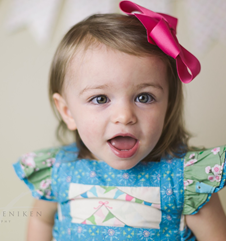 Caroline was born with a rare condition that caused her to have a visual impairment, brain abnormality as well as other health issues. She was not reaching developmental goals and was having trouble with feeding. EarlySteps provided Caroline and her family with the support they needed for her to not only reach her development goals but to also have the tools to engage in play with her peers. Caroline's mom said, "EarlySteps did not cure my daughter but they did give her the tools she needs to be happy and thriving"
Nationally, 77% of children exit intervention prior to their 3rd birthday. In 2016 44%, exited at or near the developmental level of their peers. In 2016 in Louisiana, 44% exited EarlySteps not in need of further special educational services. That's a potential cost savings for the state in educational services of $11 million.


Statewide Transportation Needs Survey
The Governor's Advisory Council of Disability Affairs (GACDA) has created a transportation survey to gather data regarding the needs for accessible transportation across our state. GACDA will review the results of the survey over the next year and make recommendations based on the data. GACDA is asking for your help in sharing the survey. The survey can be completed at the following link: https://www.surveymonkey.com/r/23P3SJX
Inclusion Art Contest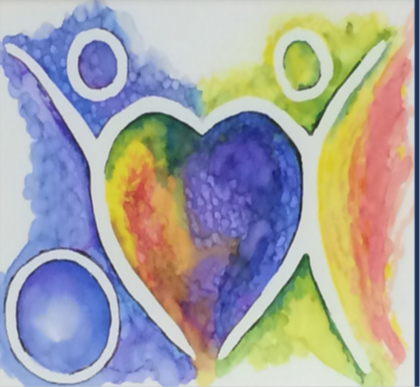 To bring greater awareness of the importance of inclusion in today's society, the Governor's Office of Disability Affairs (GODA) encourages you to participate in the 2017 Inclusive Art Contest. GODA will be accepting entries that illustrate or describe ideas related to this year's theme and accompanying definitions of inclusion of persons with disabilities. This year's theme is "Together We Succeed." Award medals and special recognition from Governor John Bel Edwards will be presented to the artists who submit winning artwork. The Inclusive Art Contest is open to all residents of Louisiana. Contestants are encouraged to use art as a means to share their vision, experiences, and talents to demonstrate this year's theme.
Winning entries will be publicly displayed. All entries must be submitted by September 1st, 2017. For the registration form, click here. Please call (225) 219-7550 or email Jolan.Jolivette@la.gov should you have any questions.



Child Care Assistance Program
The Louisiana Child Care and Development Fund Programs have increased support for children with special needs. The definition of special needs care was revised to include IFSP or IEP in accordance to IDEA, incentive payments of up to 26% higher than the regular rates were approved for special needs child care, and reduce the work or job training requirement for families of children with special needs to be an average of 15 hours per week to allow more flexibility for families that need to take their children to multiple appointments or services. The purpose of the CCAP is to support all families in accessing high quality child care by providing financial assistance to low-income families while they are working or attending school. Households can select any Type III early learning site, family child care provider, in-home provider, school child care site, or licensed child care sites determined by the Department of Defense. To find out more information about eligibility, application, and other resources please click here, email LDEccap@la.gov, or call 1-877-453-2721.



National Council on Disability Quarterly Meeting
The National Council on Disability (NCD) will have its next quarterly meeting at the Hyatt Regency in New Orleans May 11-12, 2017. The NCD is an Independent federal agency making recommendations to the President and Congress to enhance the quality of life for 57 million Americans with disabilities and their families. The Council will host presentations on the connections between disability and poverty in Louisiana and on charter schools and vouchers in the context of the Individuals with Disabilities Education Act (IDEA). In addition to an update on the 2017 Progress Report, as well as agency updates on finance, governance, and other business. For complete details, visit NCD.gov or call: 202-272-2004.