College and University Disability Services and Programs
Staff from the Governor's Office of Disability Affairs visited with the following colleges and universities' disability affairs services: Nicholls University, Southeastern Louisiana University, University of Louisiana at Lafayette, McNeese, LSU-Shreveport, Louisiana College, and ULM.. During these meetings they learned about the different programs and services colleges and universities offered in addition to making appropriate accommodations. Nicholls University has the Bridge to Independence program, which is the only program of its kind in Louisiana certified by the U.S. Department of Education. The Bridge to Independence program is designed to help students with intellectual disabilities gain the skills needed to become gainfully employed through college courses and job-training. Southeastern Louisiana University offers Lions Connected, which provides a personalized, post-secondary educational experience for individuals with Intellectual Disabilities by immersing their students into the "College Experience" while preparing them for vocational opportunities. The University of Louisiana at Lafayette has the UL LIFE Program, which offers a Basic 2-year program that incorporates functional academics, independent daily living skills, employment, social/leisure skills, and health/wellness skills in a public university setting with the goal of producing self-sufficient young adults. Louisiana College has the Pass Program, which offers extra services to their students with disabilities.
Municipality Disability Meetings
Staff from the Governor's Office of Disability Affairs had meetings with the cities of Lafayette, Lake Charles, Shreveport, and Monroe/West Monroe to learn how these cities are making appropriate accommodations for their citizens, some of the needs and concerns for individuals with disabilities, and about the priorities and programs of disability advisory groups. The Governor's Office of Disability Affairs will continue to reach out and offer support and networking with local governments. To find out more about your local disability committee contact your local government or Mayor's office.
Employment First Workgroup
The first meeting of the Employment First Workgroup was held Thursday, February 16. The Workgroup is comprised of federal, state, regional and local agency stakeholders as well as community advocates, other professionals, business leaders, families, and individuals with disabilities to address barriers to employment and improve employment outcomes for people with disabilities. During the meeting, members of the workgroup shared information and perspectives related to education, individuals and families, developmental disabilities, and services for people with disabilities. Attendees also shared their experiences regarding seeking employment and applying to receive services.
The workgroup will meet monthly and will report its work by June 30, 2017. The next meeting will take place on March 23, 2017 at 10 a.m. at the Louisiana State Capitol on the 4th floor. The meeting will be open and all interested parties are encouraged to participate.
LaCAN Legislative Roundtables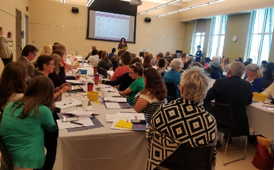 LA Council's Advocacy Network (LaCAN) and Families Helping Families held roundtables in every region across the state during January and February. At the roundtables in each region funding of vacant waiver slots and individual and family support services were discussed as well as education and employment. The goals of the roundtables were to help people understand the critical issues affecting our state, understand the importance of advocacy, learn how to advocate for policy changes to improve lives, and develop plans to let policymakers hear their voices. The legislative roundtables allow LaCAN members to meet with the legislators in their area.
Black History Month Reading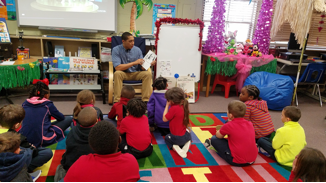 On behalf of the Governor's Office of Disability Affairs on Wednesday, February 15, 2017, Jolan Jolivette was invited to read "Famous African Americans" to Ms. Tiffany Thibodeaux's first grade inclusion class at St. Martin Parish Early Learning Center for Black History Month by Principal Landry and Mrs. Wanda Johnson. It was a great experience to watch kids learn and ask questions about our history and the contributions of people of color. We want to thank to Principal Landry and Mrs. Wanda Johnson for providing a tour of their school and their Inclusion classrooms.
2017 St. Landry-Evangeline United Way Women with Heart Award Luncheon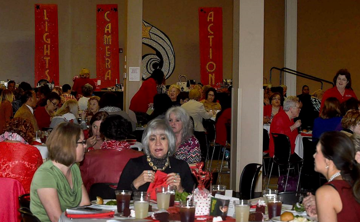 The 5th Annual Women with Heart Luncheon and Awards was hosted by the St. Landry-Evangeline United Way Women's Leadership Council on February 17. Honorary Chair was Ville Platte Mayor Jenifer Vidrine and the keynote speaker was Bambi Polotzola, Executive Director of the Governor's Office of Disability Affairs.
Bambi spoke about her personal journey as a mother of a child with a disability which led her to advocacy. She emphasized the importance of networking through community service and advocacy. Dr. Shanta Proctor, Executive Director of the Governor's Office of Women's Policy, was in attendance and information about the upcoming Equal Pay Summit was shared.
The 2017 Equal Pay Summit will be on March 10, 2017 from 8:30 a.m. to noon at the Manship Theatre at the Shaw Center for the Arts located at 100 Lafayette Street in Baton Rouge. Governor John Bel Edwards and First Lady Donna Edwards will be in attendance. Registration for the Summit is available here.
GOV Talks: Criminal Justice Reform
GOV Talks will be Wednesday, March 22, 2017, to talk about Criminal Justice Reform in Louisiana. We will ask our panelists about what the recommendations from the Louisiana Justice Reinvestment Taskforce mean for Louisiana while Press Secretary Shauna Sanford moderates the discussion. People in the audience will be able to ask questions and make comments as well as network with others in the room. GOV Talks is a program or the Governor's Office of Programs and Planning and is focused on government, opportunity, and vision. For more information about GOV Talks email Jolan.Jolivette@la.gov.
Governor's Office of Disability Affairs Community Calendar
We now have an event calendar on our webpage. If you'd like to submit an event for the calendar, please email disability.affairs@la.gov with the name of your event, date, start and end time, location, address of location, and a brief description.