2016 Governor's Outstanding Leadership in Disabilities (GOLD) Awards Ceremony
The Governor's Office of Disability Affairs hosted the GOLD Awards ceremony on November 16, 2016 at the Old State Capitol. The GOLD Awards were created to recognize the extraordinary efforts of individuals who greatly benefit the lives of persons with disabilities. Individuals, organizations and service animals representing 12 award categories were presented with awards from the Executive Director of Disability Affairs, Bambi Polotzola. Gov. Edwards served as the keynote speaker at the ceremony. Gov. Edwards and First Lady Donna Edwards took pictures with each award recipient and congratulated them on their achievement.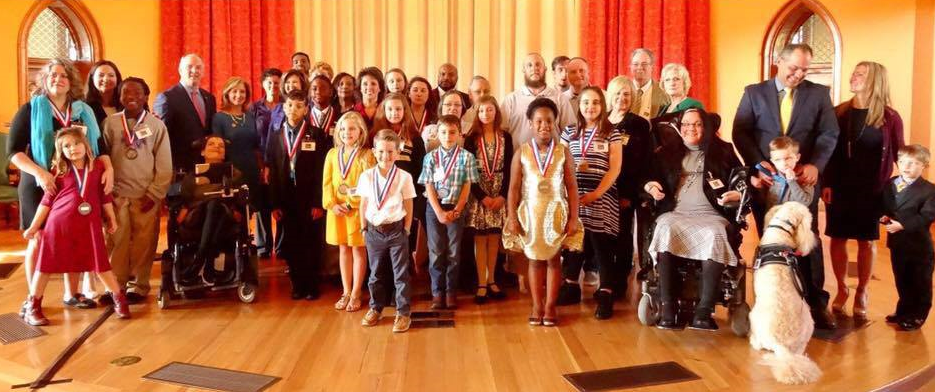 The Governor's Office of Disability Affairs also recognized award recipients of the Inclusive Art Show Competition during the ceremony. Twenty-six (26) award recipients were presented with medals for submitting winning artwork that embodied this year's theme: Inclusion Matters: A Better World For All. GACDA Chairperson Lynette Fontenot was the keynote speaker of the Inclusive Art Show Contest. Lynette presented the inaugural Lynette Fontenot Excellence in Inclusion Award to the recipient earning best overall honors, Mr. Carter Byrd.
Over 250 individuals from around the state participated in this year's ceremony.
Louisiana Association of People Supporting Employment First Policy Symposium
On November 15, 2016, the Louisiana chapter of APSE hosted the Employment First Policy Symposium at the LSU Human Development Center in New Orleans, LA. Representatives of various state agencies, disability advocacy groups and self-advocates participated in the symposium which focused on public policy issues that impact the workforce in Louisiana. The symposium featured discussions on the following topics: The Louisiana Employment First Initiative and the New CMS Home and Community-Based Setting Rule, State and Federal Policies and Initiatives, Pre-Employment Transition Services (Pre-ETS), the Workforce Innovation and Opportunities Act (WIOA), and Self-Advocate Successful Employment. The symposium featured many guest speakers including: Mark A. Thomas, representing the Office for Citizens with Developmental Disabilities; Stephanie Patrick and Jonathan Trunell, representing the Advocacy Center of Louisiana; Mark S. Martin and Melissa Bayham, representing the Louisiana Rehabilitation Services (LRS); Rebecca Hanberry, representing the Louisiana Department of Education; Donna Francis, representing the Metropolitan Human Services (MHS); and Bambi Polotzola, representing the Governor's Office of Disability Affairs. Lucas Doiron, Stuart Simon and Ashley Volion shared their employment experiences – including success, challenges and goals. Click here for more information.
Eight School Systems Are Partners in State Personnel Development Grant
The Louisiana Department of Education (LDE), in partnership with Louisiana State University (LSU), is one of seven states awarded a State Personnel Development Grant (SPDG) from the U.S. Department of Education (USDOE), Office of Special Education Programs (OSEP), receiving the second largest total award of $6.06 million over five years.
LSU and the Louisiana Parent Training and Information Center (LaPTIC), which is a statewide program of Families Helping Families of Jefferson, will deliver training and other support to eight partner school systems – Algiers Charter School Association, Bossier Parish, Calcasieu Parish, Pointe Coupee Parish, Sabine Parish, St. Bernard Parish, Vermilion Parish and West Baton Rouge Parish – to help reduce achievement gaps, specifically in reading and writing, between students with disabilities and their peers.
The LDE has received SPDG Program grants in three previous cycles, five years each, making this one of the longest running grant programs to support teachers of students with disabilities.
For more information on Louisiana's SPDG Program, click here.
Governor's Advisory Council on Disability Affairs Will Meet on December 6
The Governor's Advisory Council on Disability Affairs (GACDA) will meet on December 6, 2016 for its last quarterly meeting of the year. The meeting will take place in the press room on the 4th Floor of the Louisiana State Capitol from 9 a.m. to 3 p.m. Click here to view the agenda.
For more information, please contact Jamar Ennis at (225)219-9866.
GOV Talks on Foster Care
The Governor's Office of Programs and Planning hosted GOV Talks on November 10, 2016. Individuals representing state agencies and members from the community attended the program to participate in a discussion on the topic of foster care in Louisiana. The panelists for GOV Talks were Rhenda Hodnett and Toni Buxton from Department of Child and Family Services (DCFS), and it was moderated by Shauna Sanford in a town hall style discussion. Participants discussed and asked questions relative to: becoming a foster parent, supportive services, and transitioning out of foster care. Governor John Bel Edwards proclaimed the month November as Adoption Awareness Month in the State of Louisiana. Click here to watch the video.
Click here to find out more about foster care and adoption in Louisiana.
Governor John Bel Edwards Issues Multiple Proclamations to Promote Awareness
First Lady Donna Edwards met with Katie Corkern, member of the Governor's Advisory Council on Disability Affairs; Katie's son, Connor; and his service dog, Annie. The Corkerns received a copy of a proclamation from Governor Edwards declaring November as Epilepsy Awareness Month in Louisiana.
Governor Edwards also issued proclamations declaring November as Prematurity Awareness Month and Diabetes Awareness Month in Louisiana.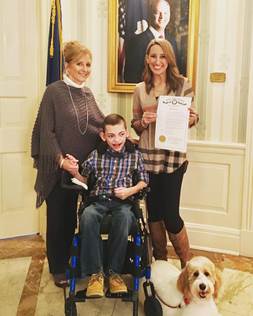 Gov. Edwards addressed the Louisiana School Psychological Association Conference
On November 3, 2016 Gov. Edwards spoke to the membership of the Louisiana School Psychological Association at their annual conference in Lafayette. He expressed his appreciation for the work that they do in our schools and committed to continue to be partners with them in meeting the needs of students in Louisiana.
School Psychologists can provide testing for special education eligibility evaluations that cannot be provided by any other pupil appraisal evaluator. They also have the training to provide mental health supports, behavioral interventions for the classroom, social skills interventions to foster relationship building, home/school collaboration, teacher consultation for academic interventions and supports, as well as administrator consultation for district level interventions and supports, such as PBIS and district-wide RTI/MTSS. In addition to these skills, school psychologists are also trained in system wide program implementation and evaluation. School psychologists play a unique role within the school system providing many necessary supports that can only be provided by someone with our unique training. With the implementation of ESSA, they can also assist in delivering high quality professional development, addressing bullying issues, and closing the achievement gap through direct interventions and consultation with teachers for designing appropriate academic and behavioral interventions.
Click here for more information about the Louisiana School Psychological Association.

National Education Week
In recognition of National Education Week, Jolan Jolivette, representing the Governor's Office of Disability Affairs (GODA), served as Teacher for the Day at Opelousas Jr. High in Mrs. Jackson's class. Jolan read to the students "The Turkey's Lucky Day: Presidential Pardon," and checked for understanding while having a discussion with the students over what was read. Many other local elected officials and community leaders also served as teachers for the day.
Act 303 Allows Certain Former Students with Exceptionalities to Petition for Diploma
Governor Edwards signed Act 303 into law earlier this year. On August 10 the Louisiana Board of Elementary and Secondary Education (BESE) approved changes to Bulletin 741 providing for a student with a disability, as defined in Bulletin 1706, who is no longer enrolled in public schools and who previously failed to receive a high school diploma or was denied graduation solely for failing to meet the exit examination requirements to petition the local school board to determine if the student is eligible to receive a high school diploma. The deadline for petition is December 31, 2017.
Click here for the changes in Bulletin 741 regarding Act 303.