Gov. John Bel Edwards Declares October Disability Employment Awareness Month
Gov. John Bel Edwards issued the following statement: "The State of Louisiana recognizes National Disability Employment Awareness Month (NDEAM) in October to raise awareness about disability employment issues and celebrate the many and varied contributions of people with disabilities. Activities during this month will reinforce the value and talent people with disabilities add to our workforce and communities."
For more information about NDEAM, click here to go to the United States Department of Labor website. Share your stories and ideas on social media using the hashtags #InclusionWorks.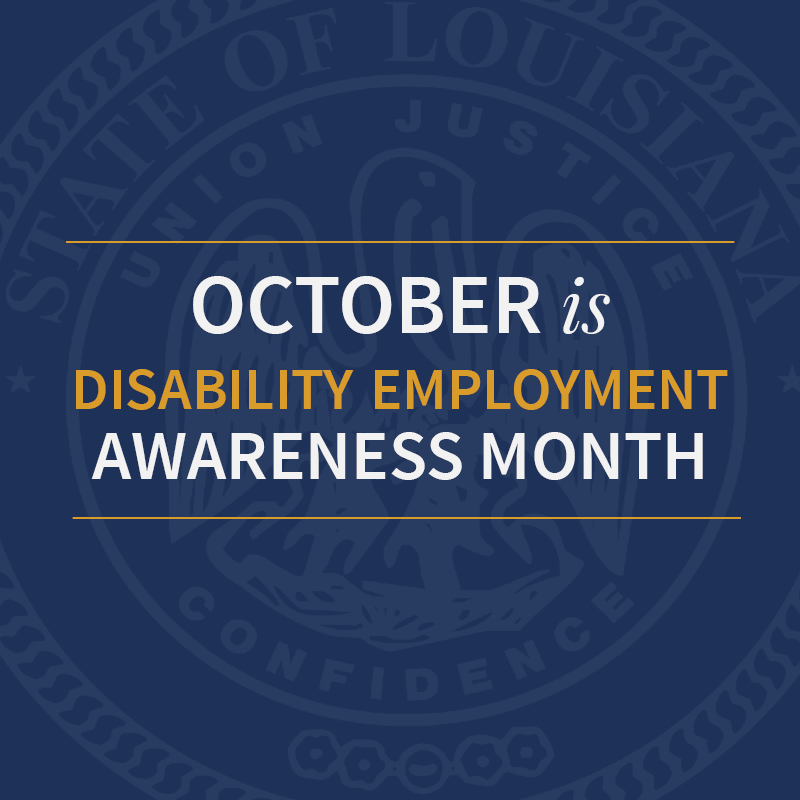 Gov. Edwards Issues Proclamation in Recognition of Counselors Awareness Week
On September 25, 2016, the Governor's Office of Disability Affairs presented a proclamation in recognition of Counselors Awareness Week at the Louisiana Counseling Association Conference on behalf of Gov. John Bel Edwards. September 25 to 30 has been proclaimed Counselors Awareness week to acknowledge the qualified professionals who are dedicated to improving the lives of others. The Louisiana Counseling Association represents professional counselors serving the diverse issues and specialty areas of counseling including mental health, education, career, addiction and many other areas.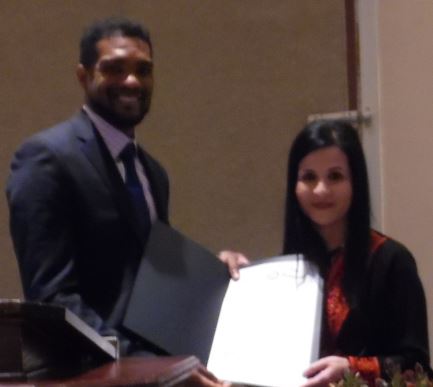 Families Helping Families of Southeast Louisiana to Host Champions Award
Executive Director of the Governor's Office of Disability Affairs Bambi Polotzola will receive the Champions Award from Families Helping Families of Southeast Louisiana on October 6, 2016, at Jones Walker law firm on St. Charles Avenue in New Orleans. The Champions Award recognizes individuals and corporations who have distinguished themselves either through their advocacy, leadership, or philanthropy. Bambi and Wade Verges, Principal of W.T. Verges Construction Company, are the first honorees for this prestigious award.
Click here for more information about the event.


GOLD Awards to be Held on November 16; Deadline to Nominate is October 10
The Governor's Office of Disability Affairs (GODA) will host the Governor's Outstanding Leadership in Disabilities (GOLD) Awards on November 16, 2016, at the Old State Capitol. The GOLD Awards recognizes extraordinary individuals and organizations who have contributed their time and talents to benefit the lives of people with disabilities in Louisiana. The deadline for submitting nominations has been extended to October 10, 2016.
Click here to download the nomination packet.


Families Helping Families of Southwest Louisiana Will Host Conference
Families Helping Families of Southwest Louisiana will host the 2016 Empowerment Conference & Resource Fair on Wednesday, October 12, 2016. This conference will present topics relevant to individuals with disabilities and their families and interested professionals related to education, empowerment, and advocacy. The executive director of the Governor's Office of Disability Affairs will be featured as the keynote speaker. The guest speakers will be Rebecca Hanberry, representing the Louisiana Department of Education, and Debra Weinberg, representing the Advocacy Center.
The deadline to register for this conference is Monday, October 10, 2016. A light lunch will be provided for registered participants. All participants must be registered to attend. There is no registration fee. Seating is limited. Click here to register.


LATAN President and CEO Julie Nesbit Retires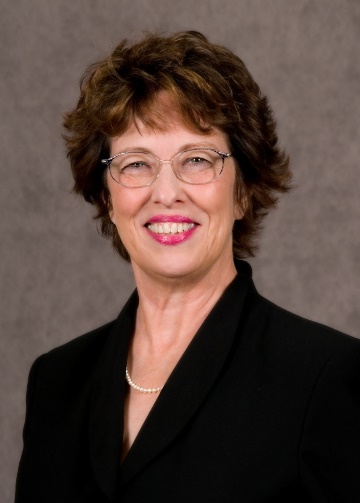 The Founder, President and CEO of the Louisiana Assistive Technology Access Network (LATAN) has retired after 24 years of service to our statewide community. Julie Nesbit began her career serving people with disabilities as an advocate on behalf of her son Troy and others within her community. In 1992, Julie created LATAN to connect individuals with assistive technology to enhance their quality of life and increase their independence at school, work, home, and in the community. During this time Julie has worked with many groups and agencies providing technical assistance and advocacy for individuals with disabilities. Julie has served on many coalitions and councils including the Governor's Advisory Council on Disability Affairs (GACDA). The Governor's Office of Disability Affairs presented a certificate of recognition from Gov. John Bel Edwards in recognition of her 24 years of service as an advocate, leader and champion for people with disabilities.


Governor's Advisory Council on Disability Affairs Held Quarterly Meeting
The Governor's Advisory Council on Disability Affairs (GACDA) met on September 20, 2016. GACDA has established four committees: accessibility, education, employment, and transportation. Some of the duties of GACDA are: advising the Governor through the Office of Disability Affairs on issues of concern to the Louisiana citizens with disabilities; identifying the needs, issues and solutions relative to people with disabilities; assisting the Office of Disability Affairs, when requested, in the resolution of state disabilities issues; and providing education, communication and networking services concerning disability issues and needs for all Louisiana citizens.
GACDA will hold its next meeting on December 6. For more information, please contact our office at 225-219-7550.


GOV Talks: Flood Recovery Panel
The Governor's Office of Programs and Planning hosts monthly town hall presentations with panelists, audience and a moderator. This month's GOV Talks featured a discussion relative to flood recovery due to the recent flooding that affected 27 parishes. It was held at Baton Rouge Community College in the Louisiana Building on September 21, 2016. The following guests were available to provide valuable information to constituents: FEMA Individual Assistance-Lorie La Fon; FEMA Disability Integration Advisor- Marcie Roth; GOSHEP- Casey Tingle; NFIP- Donald waters; SBA-Garth MacDonald; and from the Governor's Office-Julie Baxter Payer. People were able to ask questions regarding SBA loans, the Shelter at Home program, FEMA assistance and other questions regarding flood recovery.
Special Education Law 101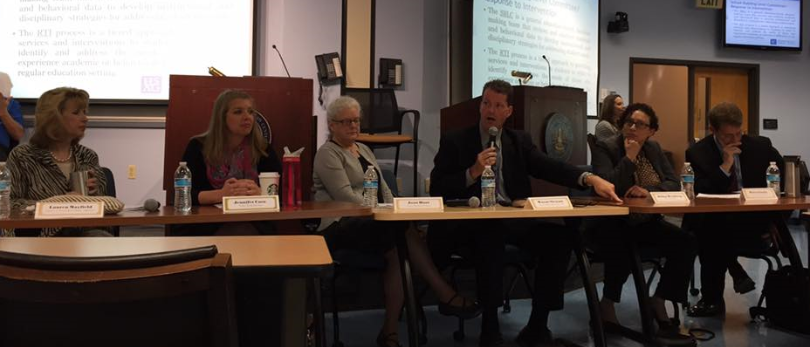 On September 24, 2016, at the Southern University Law Center, advocates, educators, parents, attorneys and law students participated in a seminar relative to student rights and school responsibilities. The seminar was presented by the Louisiana State Bar Association, featuring topics pertaining to: IEPs, disciplinary policies, student eligibility for education services, administrative appeals and special education basics. Presentations were made by representatives from the Southern Poverty Law Center, Louisiana Department of Education, Louisiana Association of Special Education Administrators, the Advocacy Center and the Loyola New Orleans College of Law.


Statewide Independent Living Council Update
The Statewide Independent Living Council (SILC) will host its quarterly meeting on October 6 from 12 p.m. to 4 p.m. and October 7 from 9 a.m. to 12 p.m. on the fourth floor of the Louisiana State Capitol. They will be discussing the State Plan for Independent Living (SPIL) objectives and activities for our council. Amy Dawson will be our guest speaker. She will give an update on the 2016 floods and discuss emergency preparedness for people with disabilities. For more information, please contact Jessica Lewis at 225-219-7552.