Overview
To improve our resilience, sustain our coast, and help avoid the worst impacts of climate change, Governor John Bel Edwards established the Climate Initiatives Task Force to develop policies to reduce the greenhouse gas emissions that are driving up global temperatures, increasing sea level and other risks that threaten our health and safety, quality of life, economic growth, and vital habitats and ecosystems.
The Task Force will recommend strategies and actions to reduce emissions through an inclusive, balanced approach that recognizes there are differing opinions and pathways to best address climate impacts while preserving economic competitiveness and achieving additional social, environmental, and quality of life benefits. The Task Force will utilize the best available science to guide decisions and include expertise from state government, colleges and universities, the private sector, and civil society to help inform and steer policy development.
Additional information on the executive order establishing the task force, the process, fundamental objectives, and membership of the Task Force can be found at the links below.
GHG Emissions Information
Emissions Reduction Goals
The executive order establishing the Climate Initiatives Task Force also set greenhouse gas reduction goals that put Louisiana's efforts in line with the goals of the Paris Climate Agreement, at least one fifth of the world's largest 2,000 companies, and many other states around the country.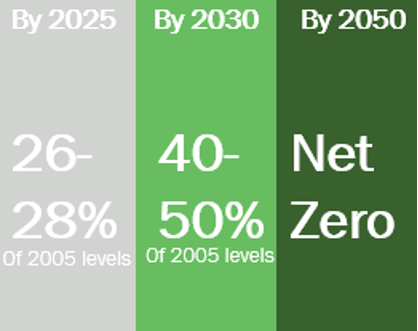 Inventory
An up-to-date understanding of Louisiana's existing sources of greenhouse gas emissions was prepared to set a baseline for the work of the Task Force. This report, prepared by the LSU Center for Energy Studies, provides detail from activities across the economy about where Louisiana's GHG emissions originate, where they are naturally absorbed from the atmosphere, and direction about how to approach GHG emissions reductions in a focused way.
According to the 2021 GHG Inventory, Louisiana's GHG emissions are robust for its population size and GDP, comprising approximately 4% of the total U.S. emissions. In Louisiana, the industrial sector is the largest GHG emitter, followed by the transportation and power generation sectors. In contrast, the power generation and transportation sectors are responsible for the majority of emissions in the U.S. The Inventory noted that an increase in wetland and forest area may facilitate a reduction in overall GHG emissions, serving as a carbon 'sink' and achieving GHG reductions that rival those emitted annually by Louisiana's power generation sector. Overall, the findings of this inventory suggest that industrial decarbonization is critical to achieve future GHG emission goals in Louisiana.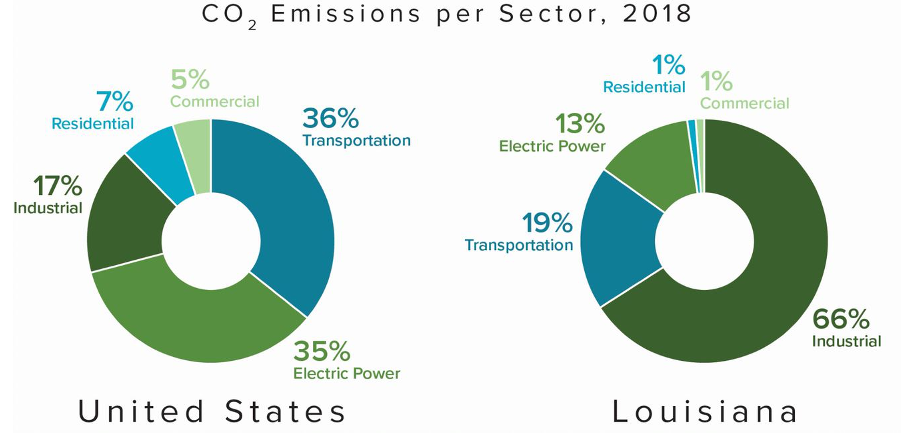 Louisiana 2021 Greenhouse Gas Inventory
Modeling Potential Emission Reductions
As The Task Force considers recommendations for meeting the GHG reduction goals it has the ability to evaluate the magnitude of potential benefits using a modeling tool known as the Energy Policy Simulator. This tool is a state-of-the-art modeling tool developed by Energy Innovation, LLC in collaboration with the Water Institute of the Gulf. It is a free, open-source, peer-reviewed model that allows users to estimate climate and energy policy impacts through 2050 and consider how policies interact with one another.
The Louisiana Energy Policy Simulator (EPS) Tool
Louisiana Climate Action Plan
Governor John Bel Edwards' Climate Initiatives Task Force unanimously approved the state's first ever Climate Action Plan containing a balanced set of recommendations to limit the severity of climate change while positioning the state to maintain its economic competitiveness in a low-carbon future. The science-based plan achieves the Governor's goals of reaching net zero greenhouse gas (GHG) emissions by 2050, putting the state in line with pledges made under the Paris Agreement, and by the federal government, 25 other states, and hundreds of companies in the private sector.
The Louisiana Climate Action Plan contains 28 strategies and 84 specific actions to reduce GHG emissions across the entire state economy. It was developed through a bottom-up approach over a 15-month process that was conducted over 49 public meetings. The Task Force members represent a variety of perspectives, including the government, private sector, academia, and environmental and community advocates. They were supported in their work by volunteers from diverse backgrounds organized into six sector committees representing different sectors of the state's economy and four advisory groups focused on equity, science, legal, and financial considerations.
The Task Force's planning effort also included an update to the state's greenhouse gas inventory, which allowed for a tailored approach to GHG emissions reductions. Sixty-six percent of Louisiana's GHG emissions are concentrated in the industrial sector, driven primarily by the state's refining, chemical manufacturing, and natural gas processing facilities. Another 19 percent of the state's overall GHG emissions come from the transportation sector, and 13 percent result from electric power generation. This information shaped the Task Force's approach and helped inform a modeling tool that was used to measure the effectiveness of different policy options for reducing GHG emissions.
The Climate Action Plan contains recommendations spanning eight sections:
Clean Energy Transition
Industrial Decarbonization
Actively Managed Methane Emissions
Transportation, Development, and the Built Environment
Natural and Working Lands and Wetlands
An Inclusive, Low-Carbon Economy
Collaboration and Partnership to Ensure Successful Implementation
Accountability and Adaptability to Ensure Lasting Success
The plan also includes three priority policy pillars: renewable electricity generation, industrial electrification, and industrial fuel switching to low- and no-carbon hydrogen.
As the state's first effort to address the root causes of climate change, the Climate Action Plan also contains a detailed description of the science of climate change and details how a warmer planet is impacting Louisiana with increasing severity the state's people, environment, and economy.
The Climate Action Plan was approved on January 31, 2022 and delivered to the Governor on February 1. The Task Force will meet again in early March to move forward with the plan's implementation.
To review the Louisiana Climate Plan and its components that have been released to date please use the links below:
2022 Louisiana Climate Action Plan
To download a web version of Climate Plan, click here.
To download a web version of Executive Summary, click here.
To download a print version of Executive Summary, click here.
To download the Executive Summary in Vietnamese, click here.
To download the Executive Summary in French, click here.
To download the Executive Summary in Spanish, click here.
2022 Louisiana Climate Action Appendices
To access the appendices to the 2022 Louisiana Climate Plan, please click the links below. If you have any questions regarding the appendices, please e-mail us at climate@la.gov.
Context Reports
Portfolio of Strategies and Actions
Full Climate Action Plans
Public Comment for Revised Draft Portfolio of Strategies and Actions
Annual Reports
Fact Sheets
Equity Metrics Report
Click

here

to email us comments & ideas.
Click

here

to subscribe to our newsletter.
Meeting Information
To view the schedule of upcoming meetings and prior meeting materials (presentations and agendas), please click here.
To view prior meetings, please visit the Climate Initiatives Task Force YouTube page.
Louisiana Wind Week
For more information on this supporting initiative, please click here.