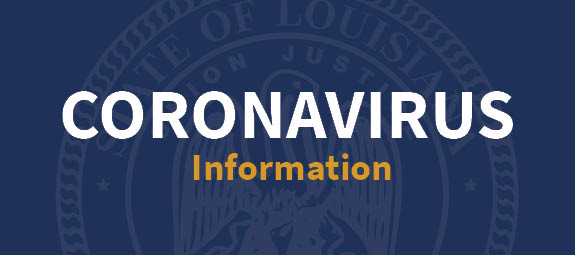 Coronavirus in Louisiana
The Louisiana Department of Health posts updated case numbers every day at noon online at LDH.Louisiana.gov/coronavirus.
Coronaviruses are a large family of viruses, some causing illness in people and others that circulate among animals, including camels, cats and bats. Rarely, animal coronaviruses can evolve and infect people and then spread between people such as has been seen with recent outbreaks of MERS and SARS.
COVID Vaccines
Everyone in Louisiana ages 6 months and older is eligible to get vaccinated against COVID-19. Vaccines are authorized for use by the FDA, meaning clinical trials have proven the vaccines as a safe and effective defense against COVID-19. No steps were skipped during clinical trials and the data review process. The free vaccines are a critical tool for protecting yourself and those around you, ultimately ending the pandemic and getting our lives back to normal.
The Pfizer and Moderna vaccines contain a genetic instruction manual called mRNA — a decades-old technology — that tells your immune system how to respond and protect you from exposure to the actual virus.
Booster shots are recommending for the following:
Those 12 and older who received the second dose of the Pfizer COVID vaccine at least 5 months ago
Those 18 and older who received the second dose of the Moderna COVID vaccine at least 5 months ago
Those 18 and older who received the Johnson & Johnson COVID vaccine at least 2 months ago
Make your vaccines appointment at vaccines.gov or by calling Louisiana's vaccine hotline at 1-855-453-0774.
Click here for frequently asked questions about the COVID vaccines.
Symptoms
Reported illnesses have ranged from infected people with little to no symptoms (similar to the common cold) to people being severely ill and dying. Symptoms can include:
Cough
Shortness of breath or difficulty breathing
Or at least two of these symptoms:
Fever
Chills
Repeated shaking with chills
Muscle pain
Headache
Sore throat
New loss of taste or smell
Questions about COVID?
If you have questions about COVID or want to make a vaccine appointment, please contact the Louisiana 211 Network by dialing 211.
Need to Talk?
If you are feeling overwhelmed with stress, fear and anxiety about the uncertainty surrounding this public health emergency, there is a special Keeping Calm through COVID Hotline you can call. This connects you to trained, compassionate counselors who can offer support and who can direct you to mental health and substance abuse counseling services. All calls are confidential.
Call 1-866-310-7977 24/7