The Office of Indian Affairs seeks to enhance the individual and collective communities of indigenous people in Louisiana by serving as a resource and referral agent for Louisiana Native Americans and tribes seeking assistance navigating local, state, and national policies. The Office of Indian Affairs also serves as a pass through to provide funding to various local entities in Avoyelles Parish for infrastructure and awards scholarships to Native American students.
Click here for a full list of Louisiana's federally and state recognized tribes.
---
Office of Indian Affairs Native American Commission
The commission's purpose is to advise the Governor's Office of Indian Affairs regarding issues pertaining to Native Americans, identify the needs and concerns of the Native Americans in Louisiana, establish criteria for state tribe recognition and recommend criteria to the Governor's Office of Indian Affairs and the legislature for adoption and implementation, review applications for the Office of Indian Affairs Scholarship and recommend scholarship awardees to the Governor's Office of Indian Affairs, promote Native American culture, awareness, and education across the state, promote Native American Heritage Month in Louisiana and conduct a comprehensive review of all state departments and agencies to identify obstacles to the effective delivery of governmental services by all service providers at all levels of government to Native Americans, propose methods for removing those obstacles, and submit such proposals to the appropriate governmental entity or entities.
2022-2024 Native American Commission Officers:
Interim Chairman: Chairman Thomas Rivers, Choctaw-Apache Tribe of Ebarb
---
Office of Indian Affairs Scholarship
With assistance from the Louisiana Indian Educational Association, the Office of Indian Affairs annually provides awards to Native American students from Louisiana tribes to attend a college or higher education institution of their choice. The awards are funded through proceeds received from the renewal and sale of special prestige license plates for motor vehicles representing Native American culture in accordance with RS 47:463:78. Recipients are selected based on academic and financial need.
Click here for the Fall 2023 Scholarship Application. The deadline is October 31, 2023.
Click here for additional information on how to obtain the American Indian special plate.
---
Constituent Services
The Office of Indian Affairs serves as a resource for individual constituent and agency inquiries regarding a myriad of issues facing Louisiana Native Americans including sovereignty of federal tribes, connecting state agencies, federal agencies and individuals with tribes, custody issues relating to Native American children, as well as directing Native Americans to appropriate state agencies as needed.
---
Isle de Jean Charles Resettlement Grant
The Isle de Jean Charles Resettlement Grant is a $48 million dollar grant awarded from the Department of Housing and Urban Development (HUD) to Louisiana through the Office of Community Development-Disaster Recovery Unit. The goal of the grant is to successfully resettle the residents of Isle de Jean Charles located on Louisiana's coastline as well as serve as a model resettlement resiliency project for the nation. This area, Isle de Jean Charles, is projected to be completely taken over by water in the next sixty years due to land loss and climate change.
Regional Map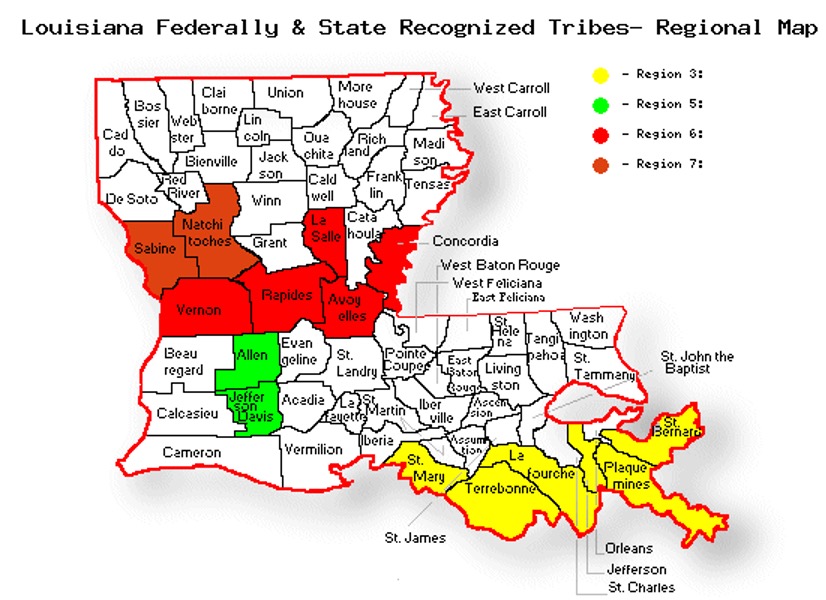 Region 3:
Bayou Lafourche Band – Lafourche Parish
Chitimacha Tribe – St. Mary Parish
Grand Caillou/Dulac Band – Terrebonne Parish
Jean Charles Choctaw Nation – Terrebonne Parish
Pointe-au-Chien Indian Tribe – Terrebonne Parishe
United Houma Nation – Terrebonne, Lafourche, Jefferson, St. Mary, Plaquemines, and St. Bernard.

Parish
Region 5:
Coushatta Tribe – Jefferson Davis Parish
Four Winds Cherokee – Allen Parish
Region 6:
Clifton Choctaw – Rapides & Vernon Parishes
Louisiana Band of Choctaw- Concordia Parish
Jena Band of Choctaw – La Salle Parish
Tunica-Biloxi Tribe – Avoyelles Parish
Region 7:
Addai Caddo – Natchitoches Parish
Apache Choctaw – Sabine Parish
Natchitoches Tribe – Natchitoches Paris
---
Resources
Health Resources
The Louisiana Department of Health
The Centers for Disease Control and Prevention
Indian Health Service
National Resource Center on Native American Aging
Association of American Indian Physicians
Housing
FEMA Assistance
Housing and Urban Development
Louisiana Housing Corporation
Office of Community Development
Education Resources
Louisiana Department of Education
Louisiana Board of Regents
Louisiana Association Of Independent Colleges & Universities
Financial Aid for Native American Students
American Indian College Fund
National Indian Education Association
American Indian Graduate Center
U.S. Dept. of Education American Indian Services
Nursing Scholarships for First Generation College Students
Employment Resources
Louisiana Workforce Commission
Louisiana Department of State Civil Service Job Seekers
---
Contact
Staff:
Chandler Vidrine, Executive Director

Phone:
225-342-1620
Email:
chandler.vidrine@la.gov
Address:
Governor's Office of Indian Affairs
Louisiana State Capitol
900 N. Third St.
Baton Rouge, LA 70804