The son of a sheriff and charity hospital nurse, John Bel Edwards understood the importance of serving others from an early age. From his service as an active duty Airborne Ranger in the U.S. Army to his time in the Louisiana House of Representatives, Gov. Edwards has always put people first.
John Bel was born seventh out of eight children to Sheriff Frank Jr. and Dora Jean Edwards. He grew up hunting and fishing in Amite, a rural town in Tangipahoa Parish. He and First Lady Donna Edwards began dating while students at Amite High School. After graduating top of his class, Gov. Edwards attended the United States Military Academy at West Point.
As a cadet, he completed Airborne School and served as vice-chairman of the panel that enforces the West Point Honor Code. The governor graduated from West Point in 1988, commissioning as a second lieutenant in the U.S. Army. He served on active duty for 8 years, earning Airborne, Ranger and Jumpmaster status, culminating with command of a rifle company in the 82nd Airborne Division at Fort Bragg, North Carolina.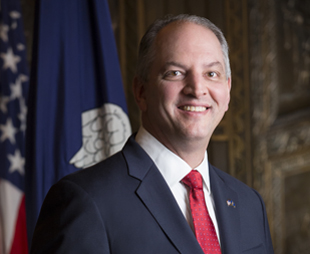 Photo by Marie Constantin. Download the high-res version
here
.
He and the first lady married in 1989. They have three children: Samantha Bel, Sarah Ellen and John Miller.
After commanding a rifle company in the 82nd airborne, Gov. Edwards left the Army with the rank of captain. He moved back home and earned a law degree from Louisiana State University before opening a civil law practice in his hometown of Amite.
In 2008, the people of House District 72 elected him to the Louisiana House of Representatives, where he represented the people of Amite, Greensburg, Kentwood and Hammond for eight years before being elected governor in November 2015.
On January 11, 2016, John Bel Edwards was sworn in as the 56th Governor of Louisiana. In 2019, the people of Louisiana re-elected him, and on January 13, 2020, Gov. Edwards was sworn into his second term as the 56th Governor of Louisiana.
In his first official act, Gov. Edwards signed an executive order to expand Medicaid coverage to over 747,200 of the state's working poor. Louisiana's uninsured rate has now dropped from 22.7 percent in 2015 prior to expansion to just 9.4 percent, saving lives and improving the quality of life for citizens across the state. Gov. Edwards considers this the easiest big decision he's had to make as Governor.
Upon taking the oath of office, Gov. Edwards inherited the largest budget deficit in Louisiana's history, following years of budget mismanagement, which included cuts to higher education and vital state resources and services.
Gov. Edwards and a bipartisan, bicameral group of lawmakers worked hard to stabilize the state's budget through a balanced approach and continued to do so even despite the challenges of the COVID-19 pandemic and multiple devastating hurricanes. Today, the state is making investments in education at every level, raising teacher pay, prioritizing roads and bridges, restoring the coast, and diversifying the state's economy. This progress has contributed to Louisiana having a record low unemployment rate.
One of the governor's top priorities coming into office was comprehensive criminal justice reform. For decades, mass incarceration of non-violent offenders drained the state of resources needed to make investments proven to reduce crime. Gov. Edwards signed sweeping bipartisan criminal justice reform legislation in 2017 that targets recidivism and invests in treatment programs and victim services.
He has also taken numerous steps during his administration to address climate change and expand the clean energy sector alongside Louisiana's long history of traditional energy. In 2020, the governor created the Climate Initiatives Task force, the state's first effort to develop economy-wide policies to reduce greenhouse gas emissions. The climate task force delivered a plan to get Louisiana to net zero carbon emissions by 2050, and under Gov. Edwards' leadership Louisiana is emerging as a global leader in the energy transition.
The same year, the state formally began the process to develop offshore wind leasing on the Outer Continental Shelf of the Gulf of Mexico with the Bureau of Ocean Energy Management.
Gov. Edwards continues to do what the people elected him to do: Put Louisiana First.